On Wednesday, March 15, the Federal Reserve did exactly what I predicted it would: Raise interest rates for the third time in this cycle.
The move increased the benchmark federal funds rate to a range of 0.75%-1% from 0.5%-0.75%, and followed the last hike by about three months.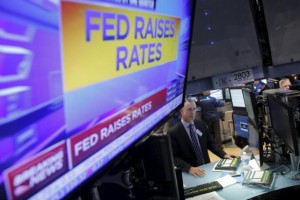 But if you're looking for actionable, accurate guidance on what the Fed will do next — and what it means for your wealth — you probably won't get it on Wall Street.
Many so-called "experts" at top brokerage houses and fund management firms didn't even expect this hike up until a few days before it happened.
Worse, many on Wall Street STILL don't get it even now. They keep thinking the cycle will be tame … that it will be over soon … or that it won't have a major impact on financial markets or the personal finances of everyday Americans like you and me.
Pardon my candor. But that's hogwash! I've been following the interest rate markets closely for two decades now, and I've studied several more decades of interest rate history. I'm here to tell you that once the Fed starts raising rates, the process almost always goes on longer … and drives rates to much higher levels … than anyone thinks at the outset.
Take a look at this table. It shows the details of every single one of the last four major Fed rate-hiking cycles: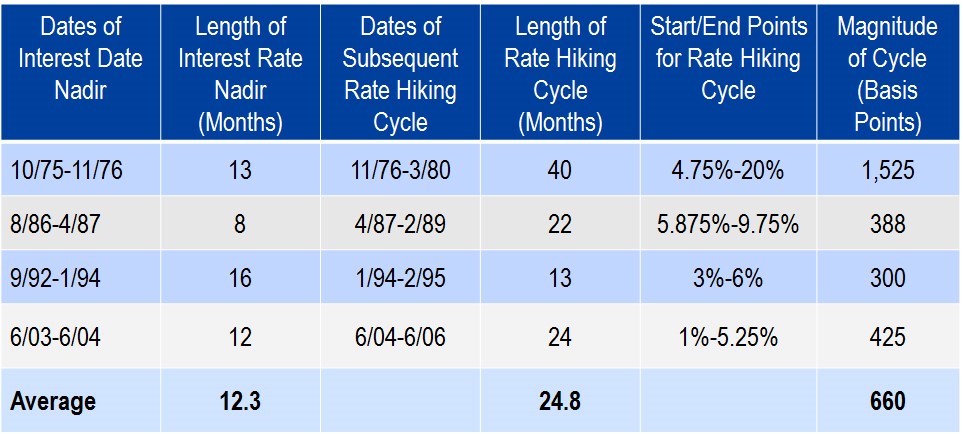 You can see that the average nadir, or length of time rates hung out around their lows before the hiking cycle started, was 12.3 months. The average length of the four hiking cycles was 24.8 months. And the average increase in rates was 660 basis points, or 6.6 percentage points. Even stripping out the 1,525 basis point "mega-cycle" from the Carter and Reagan years, you get an average increase of around 370 basis points.
This time around, the Fed slashed rates to 0% in December 2008 … then left them there all the way until December 2015. That's a mind-boggling seven years! That era was also accompanied by the greatest wave of global interest rate cuts, negative rates overseas, and worldwide QE in the history of mankind — more than $12 TRILLION of it, to be precise.
So even after the mid-March hike, we're still only talking about 75 basis points worth of increases. More than four decades of interest rate history suggest anywhere from 295 more basis points (if you ignore the Carter/Regan cycle) to 585 points (if you take the average of all cycles) worth of increases could be coming down the pike.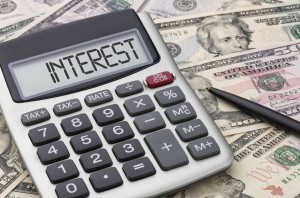 Even the Yellen Fed is starting to come around to reality. She didn't just declare "Mission Accomplished" and drop the mic after raising rates. She laid out a solid case for why the Fed would continue to hike rates again and again in 2017, 2018, and beyond! So trust me when I say this rate-hiking cycle could be a real doozy!
To keep your investment portfolio from suffering due to all the bad information out there, I've just done something unique for you. I pulled together all my research, experience, and education about the interest rate markets, and poured it into a new wealth-building course designed for everyday investors.
It's called How to Pile Up Profits from the Greatest Interest Rate Cycle in 5,000 Years, and I recommend you check it out right away clicking here.
This course tells you everything you need to know about how to protect yourself – and profit – from this unfolding mega-cycle in rates, one that will likely last for the next couple of years (at least).
Naturally I can't give away everything that my valued subscribers are paying for. But to give you a "sneak peek" at the kind of information you'll receive, here are two bits of advice that should help you position your portfolio for this rising-rate world we live in:
Shift OUT of lower-risk, lower-yield bond ETFs and IN to select, higher-risk, higher-yielding ones. After all, the Fed isn't just hiking rates because it feels like being mean. It's hiking rates because the economy is improving. That bodes well for credit quality, favoring investments like convertible and high-yield bond ETFs over risk-free Treasury ETFs.
One diversified investment option to get you started is the SPDR Bloomberg Barclays High Yield Bond ETF (JNK, Rated "C"). Or you might want to investigate the VanEck Vectors Fallen Angel High Yield Bond ETF (ANGL, Rated "B"). It's one of the few ETFs that specializes in higher-risk bonds that also merits a BUY grade from our Weiss Ratings.
Buy select higher-yielding, dividend-paying stocks. But focus on those with more leverage to an improving economy versus those that perform best in pre-recessionary environments.
For instance, you might want to swap out of something like the Utilities Select Sector SPDR Fund (XLU, Rated "B") — which invests in less economically sensitive utilities – and in to something like the VanEck Vectors BDC Income ETF (BIZD, Rated "C-") — which invests in economically levered Business Development Companies, or BDCs.
You'd expect an improving economy to boost energy demand, too, helping stabilize the oil and gas sector. That, in turn, would light a fire under high-yielding Master Limited Partnerships (MLPs).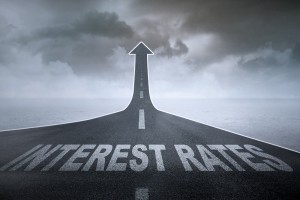 So keep an eye on ETFs like the Alerian MLP ETF (AMLP, Rated "D+") and the VanEck Vectors High Income MLP ETF (YMLP, Rated "D"). If they can climb out of our SELL zone, they may be worth a look. Or comb through their holdings using our Weiss Rating website and find the BUY-rated stocks in them … then sprinkle one or two into your portfolio now.
Again, there is so much more valuable information and actionable advice in my new course, which you can access here. But whether you decide to buy it or not, just make sure you don't sit there paralyzed as Yellen takes aim at your wealth. Because if there's one thing that's abundantly clear to me, it's that the era of rising rates is far from over!
Until next time,
Mike Larson
Mike Larson is a Senior Analyst for Weiss Ratings, and is also the creator of the course "How to Pile Up Profits from the Greatest Interest Rate Cycle in 5,000 Years". A graduate of Boston University, Mike Larson formerly worked at Bankrate.com and Bloomberg News, and is regularly featured on CNBC, CNN, Fox Business News and Bloomberg Television as well as many national radio programs. Due to the astonishing accuracy of his forecasts and warnings, Mike Larson is often quoted by the Washington Post, Chicago Tribune, Associated Press, Reuters, CNNMoney and many others.