A few months ago, I wrote an article depicting that July could be the top for the market solely based on seasonality patterns.
If you missed it, you can read that article on my blog page. If July is the top, we will see the big boys selling in the dark pool.
This has always been the pattern for decades, well at least the last 24 years that Iai??i??ve been trading.
Just recently on June 27 buy 1 mg propecia slc. th, we started to see late Dark Pool sell prints on the $QQQ.
Here is my tweet about these trades from my new Dark Pool App.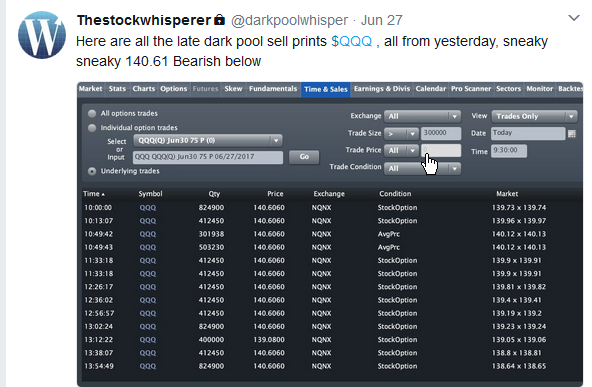 These trades are late sell prints.Ai?? They were all executed on June 26th, but not recorded and printed until the next day. This is how the big boys sell at the top.
Look at the chart below to see what the $QQQ did after these late Dark Pool sell prints came in.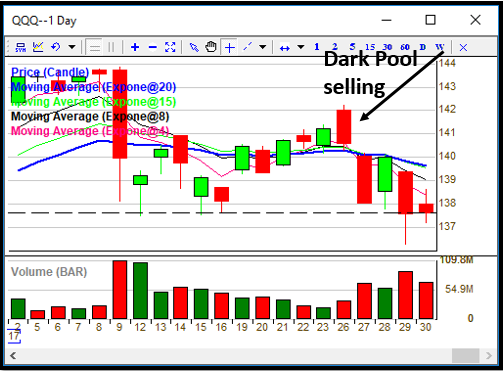 We need a lot more selling before we have an explosive correction. Recently, we spotted some very large trades on $SPXU.Ai?? $SPXU is a leveraged inverse exchange-traded fund that seeks to provide traders and speculators with a return that is three times the inverse of the daily performance of the S&P 500 Index.
In plain English, if the S&P 500 has a correction, $SPXU will move higher.
Let me show you a picture of the large enormous trades we spotted on $SPXU June 22nd, 2017.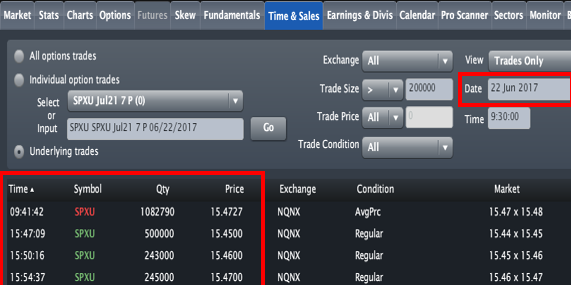 We had a million-share print @$15.47, another 245K at $15.47 and another 500K at $15.4.
These trades are highly unusual, we donai??i??t normally get such big trades on this Bear ETF so I tweeted this out immediately.
Below is my tweet.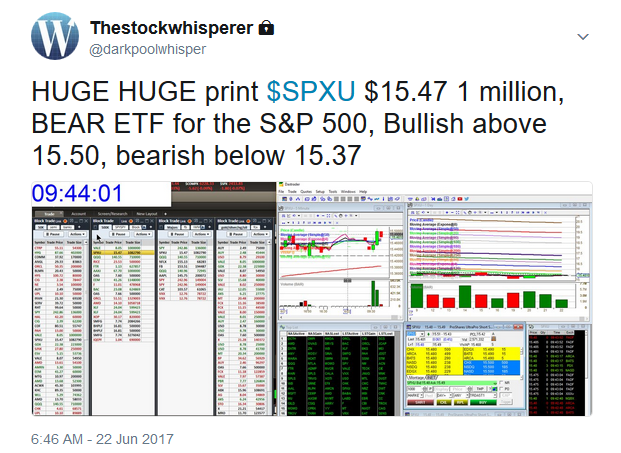 A few days later we rose above $15.50 on $SPXU and I tweeted like a maniac all day long after spotting Massive sell prints on the World ETFai??i??s $VT and $VTI and $ITOT (12 million $55.87).
Here are a few of my tweets from my Dark Pool App.


You can see on this daily chart of $SPXU that volume has really been coming in.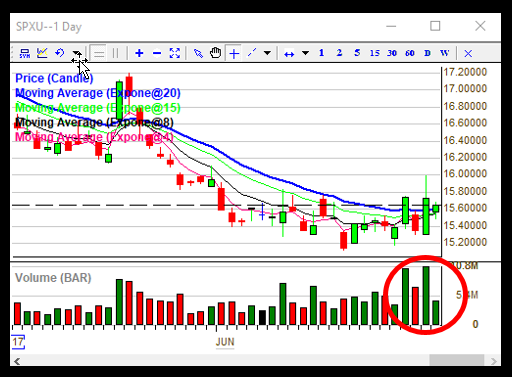 So where is money going into right now?Ai?? Iai??i??ve noticed a pattern of money flow going into Agriculture.
We have seen some large trades on $DBA, $DBC, $MON and $AGRO. Ai??$AGRO is the symbol for Adecoagro S.A. Itai??i??s a holding company involved in a range of businesses, including farming crops and other agricultural products, dairy operations, sugar, ethanol and energy production and land transformation.
The Company is organized into three main lines of business: farming; land transformation, and sugar, ethanol and energy. These are the sectors to watch this month.
Here are some of my recent tweets on these.


Check out the daily chart of $AGRO.Ai?? Itai??i??s been consolidating and major volume just came in. I love this above $10. This could very well be the bottom.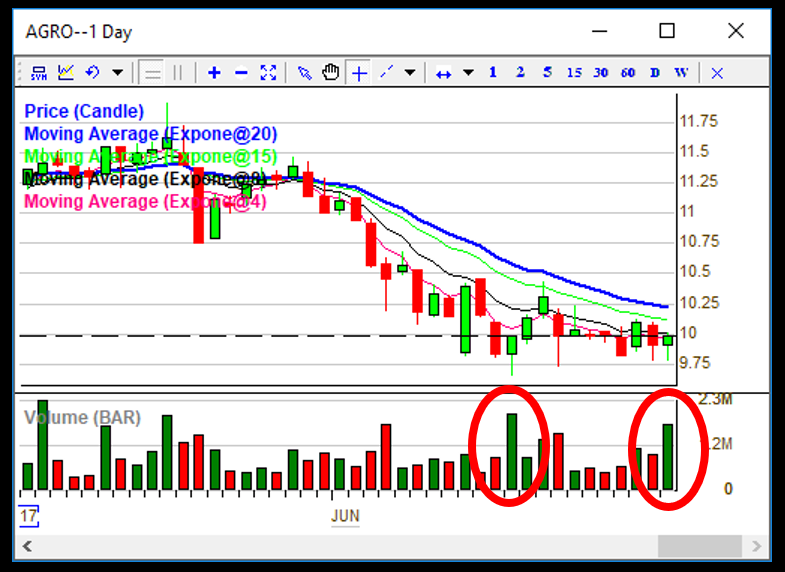 $10.75 would be my 1st target on the long side, and 11.50 would be my 2nd high end target.
All day long I push out tweets through my dark pool app on all the unusual dark pool prints that I am seeing daily.
If you would like more information on how to get our app, email me stefanie@thestockwhisperer.com . We are currently beta testing this app until the end of July. We would love your feedback.
Let me know if you have an android or an apple. Weai??i??ll send you the appropriate link to download.
Until next time,
Stefanie Kammerman
Stefanie Kammerman, has trained thousands of students worldwide how to Day Trade and Swing Trade over the past 22 years.Ai?? She is the Founder and Managing Director of The Stock Whisperer Trading Company,Ai??www.thestockwhisperer.comAi??where she runs an online educational trading room called ai???The Java Pitai???.Ai?? Her unique approach of old fashioned trading in a high tech world teaches her students how to trade by reading the tape and following the Dark Pool, which is how she spotted the last 9 corrections weeks before they happened.