With Social Security being one of the largest assets available to most American couples, any changes are important ones. Below, we will cover some of the upcoming changes to Social Security in the year ahead.
Seniors Will Get (Slightly) More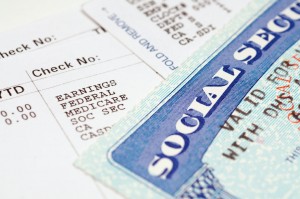 One of the most widely-followed decisions by the Social Security Administration each year is what the cost of living adjustment (COLA) will be in the coming year.
This is an increase paid to seniors which is intended to help them keep pace with rising inflation.
In recent years (2009, 2010, and 2016) there have been no COLA increases because inflation has remained flat, however, for 2017, while small, Social Security recipients can expect an increase of 0.30%. On average, this should amount to roughly an extra $48 in 2017 for the typical retiree.
High Earners Are Going to Pay More
The SSA sets a payroll tax earnings cap each year that dictates what earned income is subject to the 12.4% tax that funds Social Security. In 2016, earned income up to $118,500 was subject to the payroll tax, with earned income above this amount not taxable. This means that roughly 9 in 10 Americans are paying this 12.4% tax on every dollar they earn, whereas the wealthy are paying tax on a much-smaller percentage of their earned income.
In 2017, this payroll tax cap however is increasing to $127,200 from $118,500. If youai??i??re employed by someone else this will cost you an extra $539 per year and if youai??i??re self-employed, it will cost you an extra $1,079 per year because youai??i??re responsible for both the employer and employeeai??i??s portions of the payroll tax.
The Maximum Monthly Benefit Will Increase
For 2016, the maximum monthly benefit for workers at Full Retirement Age has been $2,639 assuming if they contributed at the maximum payroll tax cap throughout their careers. In 2017, this maximum will rise to $2,687 per month.
The Full Retirement Age Has Begun to Increase for New Retirees
For anyone born between 1943 and 1954, their Full Retirement Age is 66. However, for 2017, those born in 1955 will begin to reach 62 and will become qualified for Social Security retirement benefits for the first time. For those born in 1955 however, their Full Retirement Age is now 66 and 2 months and this figure will increase for each birth year after 1955 as seen in the chart below:
Withholding Amounts for Early Filers Increased
If you are under your Full Retirement Age and claim your Social Security while still working, you need to be especially careful to avoid the Social Security Earnings Test. Basically, if you fall into this group, for every $2 that you earn over $16,920, $1 in Social Security benefits will be withheld.
This money is not permanently lost, but is credited to your account at Full Retirement Age. If you reach your Full Retirement Age in 2017, your Social Security Earnings Test limit is quite a bit higher. You can earn up to $44,880 in the months before you reach your Full Retirement Age without your benefits being subject to any withholding.
Unclaimed Social Security Benefits ai??i?? As Much As $120,000
Itai??i??s shocking, but true. Seven out of ten Americans are missing out on their full Social Security benefits.
This means after working hard all your life, and paying into Social Security for years, chances areai??i??youai??i??re not getting your fair share.
The average couple, for example, is leaving approximately $120,000 in lifetime retirement benefits on the table.
Just think of what you could do with $120,000!
Unfortunately, itai??i??s not surprising why this happens.
Social Security is complicated. With 2,728 rules and over 9,200 strategies ai??i?? most people donai??i??t know the best way to file for benefits. No wonder retirees are getting the short end of the stick!
That isai??i??until now.
Because weai??i??ve simplified Social Security – and outlined strategies to help you get every penny youai??i??re owed.
The Bottom Line
Deciding when to file and how to file in order to maximize your benefits is always a complicated and unique decision. Your Social Security options and strategy are specific to you and you should always work with an advisor that is an expert in the laws and rules that apply to your case to maximize your benefits.
If you would like to schedule a Free Initial Consultation with an advisor to discuss your best strategy or for assistance with applying for Social Security, you can do so by clicking here.
Until next time,
Matthew Allen
Matthew Allen is the Co-Founder/CEO of Social Security Advisors and creator of the new course buy cialis united states. Maximizing Your Social Security produced in conjunction with Weiss Educational Services. Matthew has helped thousands of seniors maximize their Social Security benefits and avoid costly mistakes when filing. Matthew has been at the forefront of financial services for over a decade. In addition to co-founding Social Security Advisors, Matthew also founded The Universal Group of Companies, a private investment firm, in 2004. From 2000 to 2004, Matthew was a NYSE Market Maker with LaBranche & Co., a Fortune 500 New York Stock Exchange firm.