Every morning I put out a free you tube video called ai???The Whisper of the Dayai???. Itai??i??s my hottest pick of the day. Itai??i??s either a day trade or many times itai??i??s a longer swing trade. I donai??i??t just call out a stock and say buy it or short it.Ai??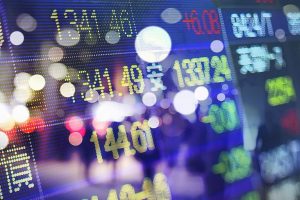 There is always a level that Iai??i??m bullish or bearish on. Itai??i??s usually based on premarket price action, a dark pool print, or a high-volume candlestick pattern.
In this case, I didnai??i??t have a dark pool print, but Ai??a high volume up thrust candle.
For those that have studied Wyckoff, you know what Iai??i??m talking about, but for those of you who havenai??i??t, here is a summary of the Wyckoff Up Thrust.
There must be a line of visible resistance on the chart (the supply line).
A Wyckoff Up Thrust occurs when price moves above a resistance line but the move attracts sellers not buyers. An Up Thrust is a Failed breakout.
The initial decline from the Up Thrust finds a short-term bottom and prices lift to retest the High of the Up Thrust but the attempted retest generally on lower volume turns out to be a swing failure and price resumes downside.
I found the perfect Up Thrust on Alcoa, symbol AA and I put this into my Whisper of the day Video for February 15th, 2017
Here is the link so you can listen to it Ai??https://www.youtube.com/watch?v=j8b-MtHtHbk
Below is the daily chart for Alcoa pointing out the Supply line, the Up Thrust and the Lower volume test candle after the Upthrust where prices resumed to the downside.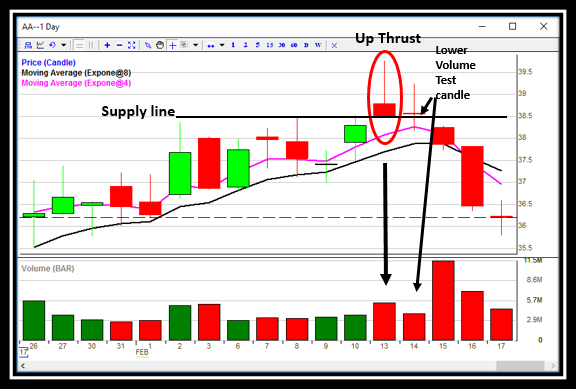 If youai??i??ve been reading my previous articles or have listened in on my webinars you know that I also turn bearish when the 4 exponential moving average (hot pink) crosses below the 8 exponential moving average (black) which happened on February 16th.
We have Bearish momentum combined with Bearish patterns.Ai?? Therefore, we have been shorting Alcoa in my live trading room once it fell below $38.18 as I had pointed out in my Whisper of the day Video.
Watch Stefanieai??i??s FREE Trading Webinarai??i??Online NOW!
Following the Dark Pools can be extremely profitable. It has allowed me to have a 93% success rate in my trading AND helped me call the last nine stock market corrections.
Dark Pools are the way big market makers like Goldman Sachs HIDE their monster sized trades so that no one else can see them until AFTER they are completed. For the last 22 years I have exposed these Dark Pool trades and helped thousands of individual investors profit from them.
And in my new online trading webinar called How to Profit Off the Dark Pool, I teach you exactly how we do it! ai??i??Stefanie K.
Letai??i??s look at the weekly chart of Alcoa. Iai??i??ve spotted a bearish engulfing pattern as well.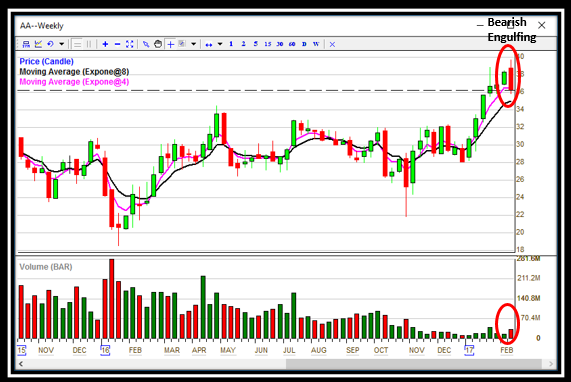 You can see that the last weekly candle in red has engulfed the previous smaller bodied candle.
This pattern has a 79% success rate of a bearish reversal per Thomas Bulkowski a well-known expert on Candle sticks http://www.thepatternsite.com/BearEngulfing.html
79% success rate for any candle stick pattern is very high. Most are only 50-60% success rate. We also have the bearish high volume Up Thrust on the daily chart as well. Wait, thereai??i??s more, let me show you another chart.Ai?? Letai??i??s look at Equity Clocks Seasonality chart for Alcoa.
As you can see, February is usually a bearish month for Alcoa, so we have bearish patterns within bearish patterns, however stay tuned for the dark pool buy prints along with the Bullish candle stick patterns that will most likely start to come in the middle of March.
Per Seasonality, Alcoa could have a massive rally into the beginning of May. I will be posting them all in my Whisper of the day videos as well as my twitter feed.
Until next time,
Stefanie Kammerman
Stefanie Kammerman, has trained thousands of students worldwide how to Day Trade and Swing Trade over the past 22 years.Ai?? She is the Founder and Managing Director of The Stock Whisperer Trading Company,Ai??www.thestockwhisperer.comAi??where she runs an online educational trading room called ai???The Java Pitai???.Ai?? Her unique approach of old fashioned trading in a high tech world teaches her students how to trade by reading the tape and following the Dark Pool, which is how she spotted the last 9 corrections weeks before they happened.