For those of you that read my last article for May, I hope you took advantage of my ai???May the force be with youai??? hot stock trades HRB and JNJ. HRB climbed from $25-$27, JNJ climbed from $124-$128.
These trades were both based on Seasonality patterns but most importantly, they were based on prints.
The smart money was buying and I always like to follow the smart money.
Since my last stock picks were so hot, I decided to do something a little hotter for you. The summer is here and when weai??i??re sitting at the beach watching the waves go rolling by, I want you to make some money off those waves.
One company that starts to heat up over the summer is Procter and Gamble, symbol PG.
Below is the Seasonal chart for PG. You can see that it usually bottoms out in June before making a huge run up all the way to December.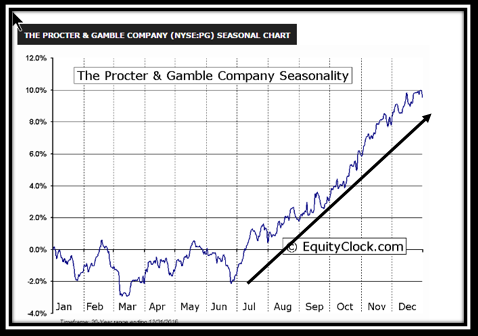 Below is the daily chart of PG.Ai?? Iai??i??ve taken the liberty of drawing some major trend lines on the chart so you can see where resistance lies above. There is resistance at around $90. PG is trading at $87 right now, so there is room for a nice trade up to $90.Ai?? If PG breaks above 90, there is room to $92.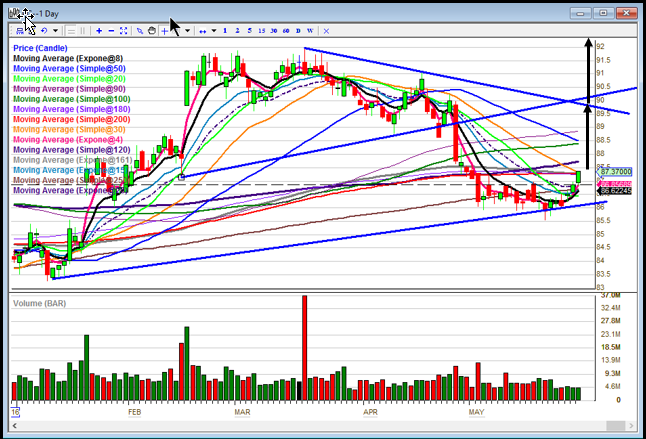 We need one more thing for this trade. We need to see some big prints, and we did. In the beginning of May. The big guys came in and started buying PG at $86.50. We had two huge trades on it May 2nd. 1.3 mil shares and 740K both at $86.50. Below is the picture of their trades.

If PG stays above $86.50, itai??i??s a hot trade this summer.
Watch Stefanieai??i??s FREE Trading Webinarai??i??Online NOW!
Following the Dark Pools can be extremely profitable. It has allowed me to have a 93% success rate in my trading AND helped me call the last nine stock market corrections.
Dark Pools are the way big market makers like Goldman Sachs HIDE their monster sized trades so that no one else can see them until AFTER they are completed. For the last 22 years I have exposed these Dark Pool trades and helped thousands of individual investors profit from them.
And in my new online trading webinar called How to Profit Off the Dark Pool, I teach you exactly how we do it! ai??i??Stefanie K.
Letai??i??s move onto another hot sector, bonds. The IShares Barclays aggregate bond Fund also has a nice positive momentum from June up to the end of September. Check out the Seasonality chart below.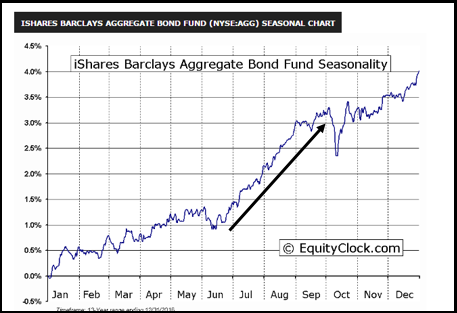 Now letai??i??s look at the chart.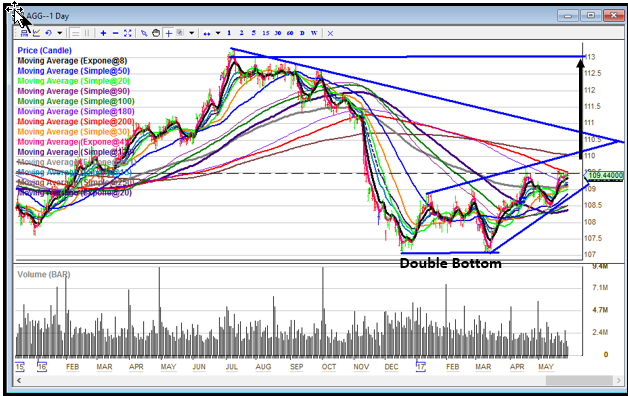 There was a nice double bottom in March, followed by higher highs and lower highs. $110 is a big level, so I would like to see it break above before entering this trade.
If AGG can break above $110, there is room to go up to $113. Letai??i??s talk about the prints because we got some big ones in May. We had 4 days of large prints in May where the price range runs from $108.43 to $108.88. If AGG stays above $108.43
I am hot on this trade but I would feel even hotter if it could break above $110. This is where I like to scale in my trades. Ai??If you would like to see a picture of these prints on AGG , send me an email stefanie@thestockwhisperer.com buy baclofen online without prescription, purchase Zoloft. .
Last but certainly not least, letai??i??s move onto my favorite commodity Silver. Diamonds may be a girlai??i??s best friend, but silver is mine right now. I like to buy things that I can sell higher. The seasonality for Silver futures is here.Ai?? Check out the Seasonality chart below.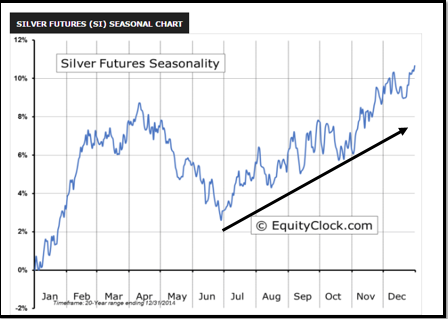 Letai??i??s check out the chart on the Silver Futures: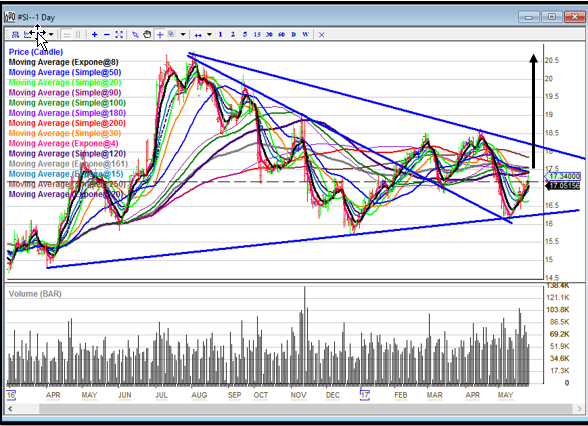 As you can see, Silver bottomed out recently by hitting that lower support trend line around $16.
If Silver can break above $17.50, $18 would be my first target, however the bigger trade is from $18-20.
There are many ways you can trade Silver. You can trade the futures, or you can trade the ETF SLV, or you can trade the more aggressive higher velocity Shares 3x Long Silver ETN USLV.
I must warn you that these 3x ETNai??i??s arenai??i??t something you hold onto for a long time.Ai?? They do decay over time and can be higher risk. Normally I wouldnai??i??t trade it but I spotted some huge dark pool trades on it recently. If you follow me on twitter@volumeprintcess or Stocktwits the_stock_whisperer you have seen me post about these large prints. Here is my tweet from May 4th, 2017.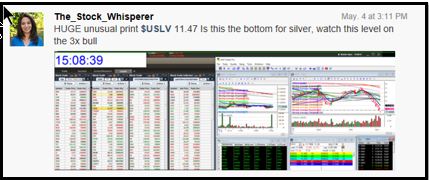 That was the first of many more to come, look at the chart on USLV.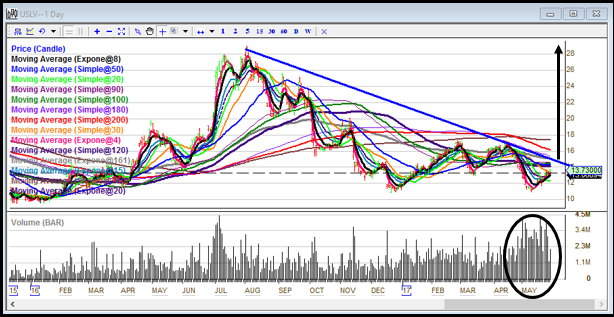 Iai??i??ve circled the unusual high volume that has come in recently. We had huge prints at $11.37, 11.47, and $13.18 recently. Ai??I am already swinging this ETN above the prints, however I will add onto my swing if USLV can break above $15.
That is the T-spot, the trend change spot.Ai?? I have a high-end target on this trade as you can see, but if I see the big guys selling, I will get out quickly. I run a live online trading room where I share all my high probability trades all day along with my entries and exits in real time. Itai??i??s a great way to learn how to trade.
Until next time,
Stefanie Kammerman
Stefanie Kammerman, has trained thousands of students worldwide how to Day Trade and Swing Trade over the past 22 years.Ai?? She is the Founder and Managing Director of The Stock Whisperer Trading Company,Ai??www.thestockwhisperer.comAi??where she runs an online educational trading room called ai???The Java Pitai???.Ai?? Her unique approach of old fashioned trading in a high tech world teaches her students how to trade by reading the tape and following the Dark Pool, which is how she spotted the last 9 corrections weeks before they happened.