In this era of low interest rates, many investors are struggling with ways to generate a high level of income from their investments. Thatai??i??s true especially for retirees who rely upon investment income to pay for their daily living expenses.
With interest payments from investment-grade bonds and dividends from stocks of most financially-strong companies yielding annual returns of less than 3.5%, many investors are concerned about maintaining their standard of living.
Those concerns are amplified by the fact that the price of medical care, which accounts for a large percentage of household spending for persons over the age of 65, is rising at more than twice the rate of other household goods and services.
Retiree income from social security isnai??i??t helping much, with the Social Security Administration increasing monthly payments to social security beneficiaries by only 1.7% during 2015 and the Administration announcing on October 15 that it will not implement any increases in payments during the year ahead.
Although you could potentially generate a much higher level of income by investing in high-yield corporate bonds ai??i?? junk bonds ai??i?? those investments often involve considerable risks, such as the risk of investors not receiving interest and principal payments when theyai??i??re due.
Fortunately, a few relatively unknown fixed-income securities that Iai??i??ve recommended to my firmai??i??s clients pay considerable yields, but do not include the risks that are inherent in junk bonds. Those securities include Gabelli Equity Trust Inc. Series H Cumulative Preferred Stock (GAB-PH), Welltower Inc. (HCN) and Nuveen S&P 500 Buy-Write Income Fund (BXMX). Those securities pay annual yields ranging from a low of 5.0% to a high of 7.56%.
Gabelli Equity Trust Inc. Series H Cumulative Preferred Stock (GAB-PH) is issued by The Gabelli Equity Trust Inc., a closed-end management investment company that was founded during May 1986 by legendary investor Mario Gabelli.
buy clomid online without prescription, clomid online.

Just 24 Hours Left to Save up to $12,318 (75%)

on EVERY Weiss Investor Education Course

Save up to $12,318 (75%) arming yourself with Weissai??i?? top financial education and coaching courses from the advisors you trust most. From the ULTIMATE Gold and Silver Trading Course by Larry Edelson, and profiting from the most powerful force on Wall Street as revealed by Mike Larson, to Planning for a Prosperous Retirement from Mike Burnick…they are all here!Ai??But ONLY if you act before Friday, December 4.

Internal Sponsorship
Unlike the risks associated with investing in junk bonds, thereai??i??s almost a 100% likelihood that persons who invest in GAB-PH will receive the trustai??i??s scheduled dividend payments. Thatai??i??s due primarily to the following:
1. The Investment Company Act of 1940 requires registered investment companies that issue preferred stock to have an asset coverage ratio of at least 200%. That means that the net assets of The Gabelli Equity Trust must be equal to, at all times, at least twice the value of all of the trustai??i??s outstanding preferred stock.
2. As of June 30, 2015 (the fundai??i??s most-recent semiannual report date), The Gabelli Equity Trustai??i??s outstanding preferred stock, including its Series H Cumulative Preferred Stock, had an asset-coverage of 533% ai??i?? the value of the trustai??i??s net assets was approximately 4.3 times the value of all of the companyai??i??s outstanding preferred stock. Hence, the value of The Gabelli Equity Trustai??i??s holdings, which consist primarily of investments in publicly-traded mid- and large-cap stocks, would need to decline by approximately 77% for the trust to be unable to redeem all of its outstanding preferred stock and to pay all of the cumulative dividends owed to its preferred shareholders.
3. The net asset value of The Gabelli Equity Trust tends to move in-line with the S&P 500 Index.
4. In light of the fact that the S&P 500 Index has never declined by more than 44% during any period in history, including the stock market crash of 1929, there appears to be a very low probability that the value of the trustai??i??s holdings would fall by more than 77. (Note: For the year ended December 31, 2008, when the S&P 500 Total Return Index suffered its worst decline since 1931, The Gabelli Equity Trust was still able to maintain a coverage ratio of 289% for all of its outstanding preferred stock).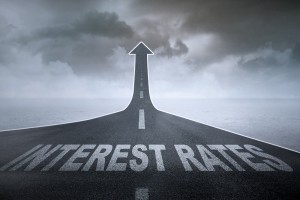 Although the factors outlined above indicate that thereai??i??s little chance of GAB-PH defaulting on its dividend payments, the stock is susceptible to interest-rate risk, meaning that its price would likely fall sharply in the event that market interest rates were to rise considerably.
Fortunately, the possibility of future interest-rate hikes appear to have already been factored into the price of GAB-PH.And, with my research indicating that the pace of economic growth in the United States will slow considerably over the next few months, I expect the Fed to maintain interest rates at low levels for at least another 12 months.
Offering a 5.00% annualized yield as of November 25, 2015, a AAA credit rating, and almost no chance of default, Gabelli Equity Trust Inc. Series H Cumulative Preferred Stock (GAB-PH) appears to be an excellent investment, especially for investors who are seeking ways to generate a relatively high level of dependable income. (Note: Different exchanges and different securities brokerage firms use different ticker symbols for Gabelli Equity Trust Inc. 5.00% Series H Cumulative Preferred Stock (i.e. GAB-PH, GAB.PH, GAB/PH, etc.). Therefore, you should contact your brokerage firm for the symbol that its uses for that stock.)
Another dividend stock that pays a relatively high yield and appears to have little downside risk in terms of its stock market performance is Welltower Inc. (HCN).
Previously known as Health Care REIT Inc., Welltower is a real estate investment trust that invests in housing communities for seniors, long-term/post-acute care facilities, medical office buildings, inpatient and outpatient medical centers and life science facilities. Its housing communities include independent living facilities, assisted-living facilities, retirement communities, and Alzheimer's/dementia facilities. The companyai??i??s holdings consist of approximately 1,325 properties in 46 states, the United Kingdom, and Canada. Welltower has been at the forefront of seniors housing and healthcare real estate since the company was founded during 1970.
As of November 25, Welltowerai??i??s stock was paying a 5.28% annualized yield.
Lastly, Nuveen S&P 500 Buy-Write Income Fund (BXMX) is a closed-end fund that seeks to replicate price movements of a 75%/25% combination of the S&P 500 Index and the NASDAQ-100 Index, respectively, while selling (writing) S&P 500 and NASDAQ call options in the same 75%/25% ratio covering approximately 100% of the value of the fundai??i??s equity holdings. In doing so, the fund is able to generate regular income from the premiums that it receives for writing those options.
Those of you who arenai??i??t familiar with Covered Call Writing Funds like the Nuveen S&P 500 Buy-Write Income Fund should note the following: When the prices of the securities on which the fund writes call options rise above pre-determined prices, the fund is required to sell those securities; and when the prices of the securities on which option contracts are written remain near the level that they were when the fund wrote those options, or when the prices of those securities decline, the fund would continue to hold those securities.
Because of the option-writing features mentioned above, Covered Call Writing Funds tend to underperform their benchmark indices during bull markets and to outperform those indices during bear markets and during periods when those indices trade in a narrow sideways range.
Regardless of any over- or under-performance and the price direction of the securities held by the Fund, persons who invest in Covered Call Writing Funds receive regular income from those investments.
With my research indicating that U.S. stock prices, in general, will move in a narrow sideways pattern over the next few months, with a somewhat of a downward bias, I encourage those of you who are seeking to generate regular income from your investments to consider allocating a portion of your financial market assets to a fund like the Nuveen S&P 500 Buy-Write Income Fund (BXMX).
As of November 25, BXMX was paying a whopping 7.56% annualized yield.
For information on other safe, yet high-yielding, fixed-income securities, I encourage you to try my Free Weekly Market Commentary. Click here to subscribe to that weekly report.
Until next time,
David Frazier
David Frazier is President and Chief Market Strategist of Frazier & Mayer Research, LLC, an independent investment research firm that offers customized research and analytical services to registered investment advisors, hedge funds and high net-worth individual investors. You can check out his latest insights at: www.investorsmonitor.com.
*Editorial Contributors' Disclaimer
The information contained within this article solely reflects the opinion and analysis about the performance of securities, investments and financial markets by the writer whose articles appear on this site. The views expressed by the writer are not necessarily the views of Weiss Educational Services, its affiliates or members of its management. While Weiss Educational Services and its affiliates accept editorial content from outside contributors, the content provided herein has not been independently verified for its accuracy. Nothing contained in this article is intended to constitute a recommendation or advice addressed to an individual investor or category of investors to purchase, sell or hold any security, or to take any action with respect to the prospective movement of the securities markets or to solicit the purchase or sale of any security. Information provided on the website is for educational purposes only. Any investment decisions must be made by the reader either individually or in consultation with his or her investment professional. Weiss Educational Services writers, its affiliates and staff may trade or hold positions in securities that are discussed in articles appearing on the website. Nothing on this website is intended to solicit business of any kind for a writer's business or fund. Weiss Educational Services, its affiliates, management and staff as well as contributing writers will not respond to emails or other communications requesting personalized investment advice.