If you are a trader or investor, you probably know that including sector exchange traded funds in your portfolio can be profitable.
But aside from trading these funds, I also use sector ETFs as decision-support tools when Iai??i??m targeting a stock to purchase.
Hereai??i??s why . . .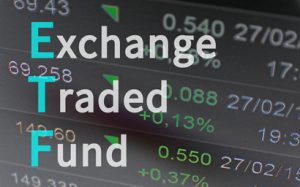 During any trading day, most stocks fluctuate in price according to these three dynamics: 1) movement of broad market (S&P 500), 2) movement of sector or industry group in which stock resides, and 3) individual company news.
Because I know that which sector my stock is in has a substantial influence on that stockai??i??s moves, it makes sense that I want my position to be in, or related to, a sector ETF thatai??i??s in favor and moving higher, rather than in a fund thatai??i??s out of favor and losing ground (and money).
In other words, you want your stocks to be on a winning team, rather than a losing team.
Once I determine which sector or industry group my target stock resides in, I then bring up a daily (or weekly) chart of the related ETF.
Is the sector ETF in favor and trading in an uptrend? If so, that knowledge (along with other research) may confirm my decision to buy.Ai?? For a list of sector and industry group ETFs, click here.
Special Offers to Weiss Educational Readers
Weai??i??re nearing the end of earningsai??i?? season, and the geopolitical situation with North Korea is gaining momentum.
So . . . we expect market volatility to ramp-up in the coming weeks . . .
Do you know how to keep your profits safe?
Or how to spot new opportunities?
Youai??i??ll find out answers to these questions and much more in celebrex for sale, Zoloft withoutprescription. Toniai??i??s Market Club.
Plus, if you act now, youai??i??ll get a 20% discount on your first month. Use this coupon code at checkout:Ai?? TMC20
Canai??i??t attend the live session?Ai?? No problem. The recording is available to all members right after the session ends.
August promises to be a volatile month in the market, and youai??i??ll want to keep your profits safe and target new ones.
Toniai??i??s Market Club is a low-priced, high-value opportunity to do just that.
Remember, if you act now, you receive a 20% discount on your first month.
Use this coupon code at checkout:Ai?? TMC20
Alternatively, if I find that my stock part of a sector ETF thatai??i??s falling in a downtrend and out of favorai??i??a ai???losing teamai??? –I may decide to skip the stock, for now.
My reasoning:Ai?? even stocks that outperform their sectors for a period, usually canai??i??t fight their ai???teamai??i??sai??? downtrend for an extended period of time.
So, if I target a stock for a long-term trade, I prefer it to reside on a ai???winning team.ai???
Over the years, Iai??i??ve found the sector ETF confirmation to be so valuable that I use it every week for my stock recommendations in Toniai??i??s Market Club.Ai?? And I give ai???the ETF to Followai??? to our members with each trade.
Hereai??i??s an example:Ai?? Early in June, members of Toniai??i??s Market Club bought shares of JP Morgan Chase (JPM).
The ai???ETF to Followai??? was the Select Sector Financial SPDRS (XLF).Ai?? And, that ETF was in rally-mode, which confirmed our decision to buy.Ai?? The result:Ai?? Recently, JPM hit a new all-time high, and weai??i??ve enjoyed a profitable trade.
In the daily chart below, the top green line represents JPM.Ai?? You can see the recent rally as it reached higher, starting in June.Ai?? Below, the red line represents the Select Sector Financial SPDR (XLF).
Even though JPM outperformed the XLF, the fund remained in a gentle, yet firm rally through the end of July and into of August.Ai?? As long as the XLF continued higher.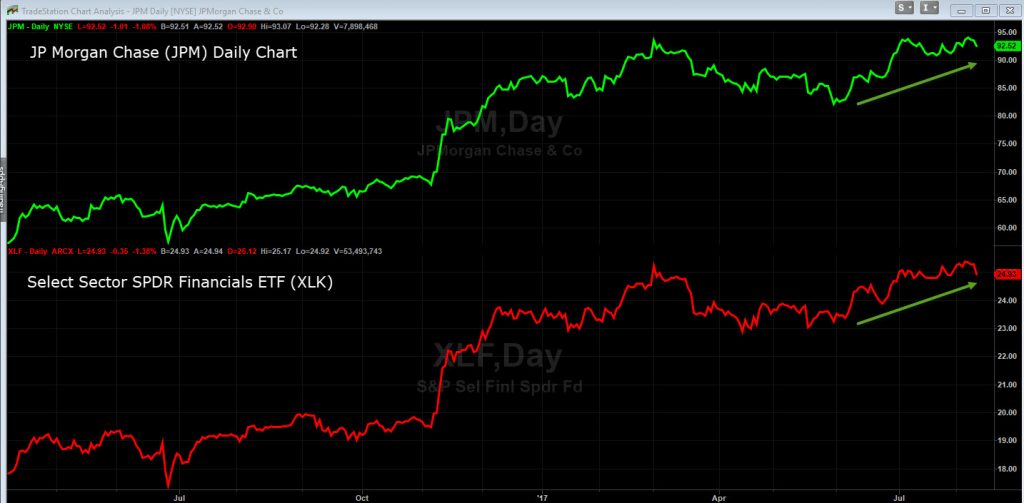 Chart Courtesy TradeStation
Before you purchase a stock, checking the sector or industry group ETF for strength or weakness can be a smart point to add to your checklist.
In Toniai??i??s Market Club, we believe itai??i??s also good risk management to keep an eye on the sectors or groups where our positions reside, in case one of them makes a rapid turn that influences our stocksai??i?? prices.
All in all, knowing which ai???teamai??? or sector ETF your target stock is related to, and then watching that ETF for future direction can make you, and save you, money!
Until the next time, keep green on your screen!
Toni Turner
Toni Turner is the President of TrendStar Group, LLC, is an accomplished technical analyst as well as a popular educator and sought-after speaker in the financial arena.
She is also the author of best-selling books: A Beginnerai??i??s Guide to Short-Term Trading, Short-Term Trading in the New Stock Market and Invest to Win: Earn and Keep Profits Bull and Bear Markets With the GainsMaster Approach, co-authored with Gordon Scott, CMT.