I believe we can all agree–weai??i??ve enjoyed a terrific bull-market for quite a few years.
But what if the marketai??i??s current reverie gets smacked upside the head by an unexpected event? That could change the marketai??i??s mood and manner quickly, and equities could fall.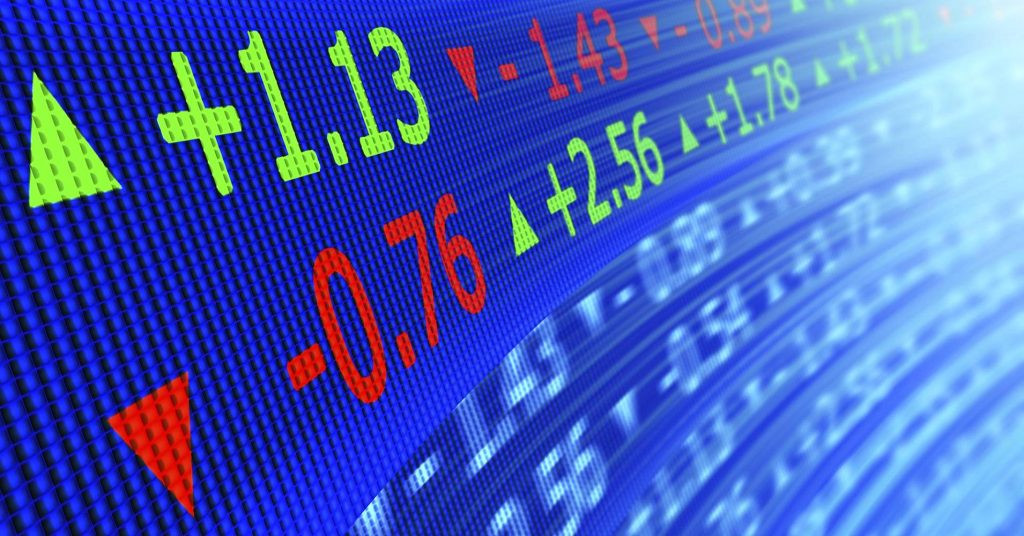 Should that happen, we are wise to know where we want to put at least a portion of our portfolio, where it could potentially earn gains.
In Toniai??i??s Market Club this week (more about this below), we talked about what we would doai??i??what we might consider buying– if the market (think: S&P 500 Index) turns bearish. Ai??In other words, what goes up when the market goes down?
We discussed three assets that usually move higher in the event that our benchmark index, the S&P 500, experiences a drawdown:Ai?? US Treasury bonds, the Japanese yen, and gold miner stocks. Each of these assets are easily purchased using exchange traded funds (ETFs).
Before we continue, please know that when (if) we purchase any of the below ETFs, we have firm rules:Ai?? 1) We consider these trades to be relatively short-term, with holding times of days to weeks, 2) immediately after we enter these trades, we establish protective stops with our brokers, and 3) if the trades are successful and the ETF(s) weai??i??ve purchased climb higher, we turn our protective stops into trailing stops with our broker to minimize risk and maximize gains.
Three ETFs That Could Rally During a Market Downturn
iShares 7 ai??i?? 10 Year Treasury Bond ETF (IEF). A key goal of the bond investors is principal preservation. Since bonds are considered to be safer than stocks, in market turndowns, the flight to bonds propels their prices higher. Youai??i??ll want to consider investment-grade rated bonds, such as US Treasury bonds. Because bonds with longer maturities are more sensitive to changes in interest rates, when we are seeking short-term safety, we concentrate on less-volatile bonds with maturities of 10 years or less, such as the iShares 7 ai??i?? 10 Year Treasury Bond ETF (IEF).
The daily chart below shows the iShares 7 – 10 Year Treasury Bond ETF (IEF). Ai??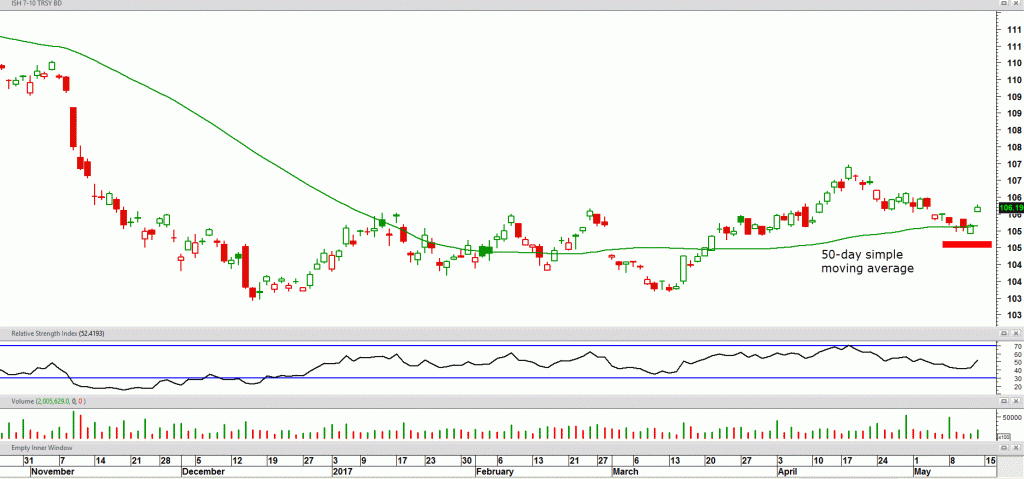 Chart Courtesy MetaStock
If you look at the hard-right edge of the chart, you will see that the IEF closed at $106.19 on May 12. If equities fall anytime soon, the IEF will probably rise from that price level. As long as the fund remains above the 50-day simple moving average (green), it may offer a buying opportunity. However, if falling equities start to rise again, the IEF may fall and profits should be taken. If the IEF falls below the 50-day moving average, the trade should be exited.
CurrencyShares Japanese Yen ETF (FXY) Japan is the oldest major economy in the world. It is also one of the largest economies and one of the largest exporters, in dollar terms. The countryai??i??s currency, the Japanese yen, is the signature currency for Asia. It is also enjoys the ranking of one of the most frequently traded currencies in the world. Therefore, if the U.S. stock market weakens, many traders and investors purchase the Japanese yen as a short-term safe haven. One of the easiest ways to purchase the yen is to buy shares of the CurrencyShares Japanese Yen ETF (FXY).
The daily chart below shows the CurrencyShares Japanese Yen ETF (FXY).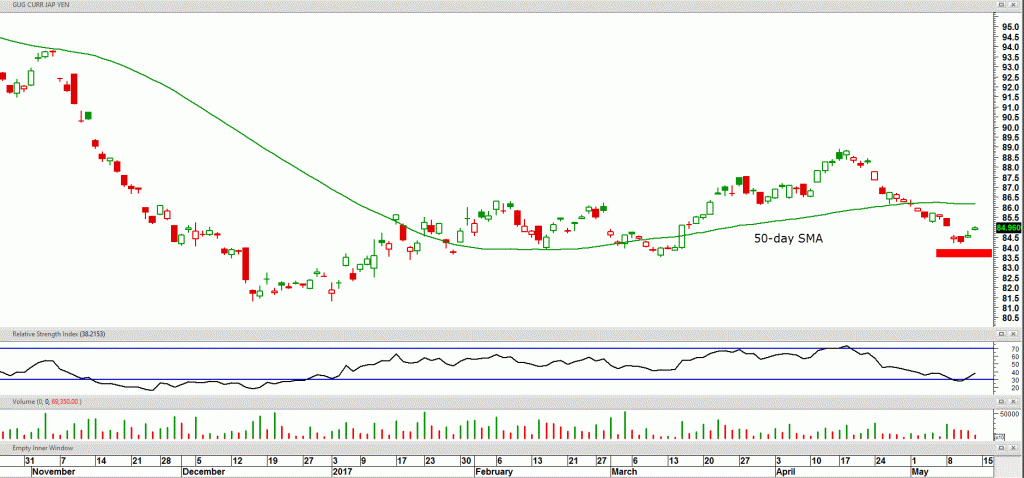 Chart Courtesy MetaStock
In April and May, as the S&P 500 Index rose and remained near its highs, the FXY fell.Ai?? It just began to rally in the last week, and the closing price on May 15 was $84.96. If the US markets begin to roil in the next week or weeks, the FXY may rise as traders use it as a hedge against potential US equity losses.
The red line at about $84.00 represents our initial protective loss level should we enter the FXY before it reaches and penetrates its 50-day MA. After (if) it climbs above the 50-day line, then we will raise our stop to just below that line. (Right now, the 50-day MA = $86.25.)Ai?? As always, a trailing stop placed with your broker yields the best protection. If the trade is successful, we take profits when the US market strengthens, which could weaken the FXY.
Special Offers to Weiss Educational Readers
Traders and Active Investors . . .
If you are ever confused about what to trade next, or how to get the most profits out of your trades, youai??i??ll want to check out Toniai??i??s Market Club can you shoot up meloxicam. .
Each Monday, from 4:30 to 6 p.m. 20-year market veteran Toni Turner will act as your guide . . .
Toni will show you which side of the market to trade, give a mini-trading lesson, and detail 3-5 trading ideas with entries, protective stops and profit targets.
Canai??i??t attend the live session?Ai?? No problem. The recording is available to all members right after the session ends.
In examples of recent trades, Tupperware Brands (TUP), earned 17%. In another trade, Aaronai??i??s Inc. (AAN), pocketed 26%.
Toniai??i??s Market Club is a low-priced, high-value opportunity to become a better trader and make more money. So please join us!Ai?? Find out how here.
Market Vectors Gold Miners ETF (GDX). For many centuries, gold has been used as a store of value. Gold prices tend to rise in fearful environments, or environments where interest rates are falling, inflation is increasing and financial stability looks shaky.
If you look at the daily chart below, you can see that the GDX has begun to rise in the most recent week, and closed on May 15 right atop the 50-day MA at $22.72.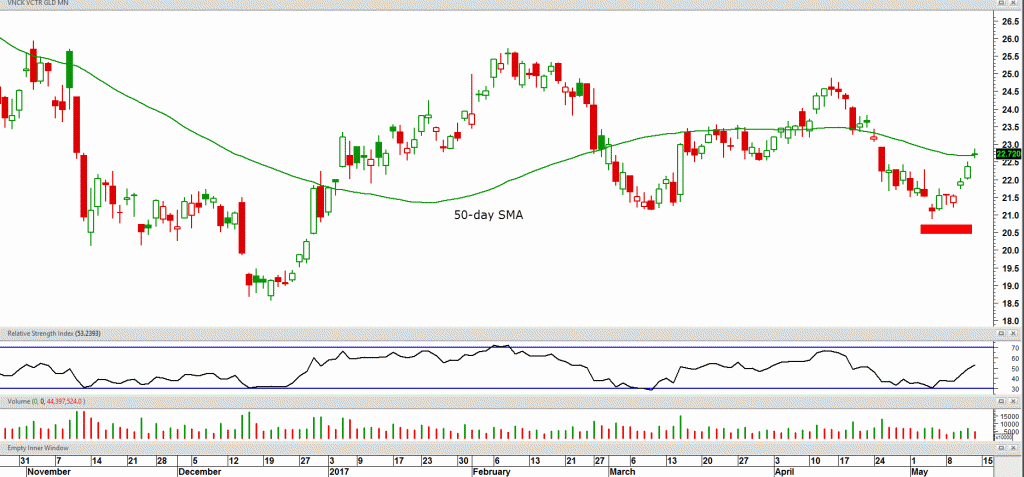 Chart Courtesy MetaStock
Should US equities sink to any degree, the GDX could power higher.Ai?? The red line on the chart is drawn at ~$20.75. This is our final protective stop level. However, if the GDX continues to rise above the 50-day MA, that line can be used as the initial protective stop level.Ai?? As with the other trades, profits should be taken when the broad market starts higher.
In Toniai??i??s Market Club, one of our primary objectives is to enter positions that agree with broad market direction.Ai?? We also know that markets move in cyclesai??i??they experience uptrends and downtrends. Just so, we keep trades like the above in ai???our back pocket,ai??? in case we need them.
In coming weeks, the market may experience a pullback.Ai?? Whatever you choose to do, please be safe and until the next time . . .
Until the next time, keep green on your screen!
Toni Turner
Toni Turner is the President of TrendStar Group, LLC, is an accomplished technical analyst as well as a popular educator and sought-after speaker in the financial arena.
She is also the author of best-selling books: A Beginnerai??i??s Guide to Short-Term Trading, Short-Term Trading in the New Stock Market and Invest to Win: Earn and Keep Profits Bull and Bear Markets With the GainsMaster Approach, co-authored with Gordon Scott, CMT.