According to Investopedia, sell in May and go away is a well-known trading adage that warns investors to sell their stock holdings in May to avoid a seasonal decline in equity markets.
I need to see the sell prints from the big guys before I start unloading my portfolio. I did a little research and I found some stocks that do very well starting in May according to equityclock.com.Ai?? They track 20 yearsai??i?? worth of seasonality performance.
I prefer to combine these seasonality charts along with the fact that the big guys are buying the stock before I jump in.Ai?? I did a little more research and found exactly what I was looking for.
Block H&R INC (HRB) has a nice low Price per earnings ratio along with a nice juicy 3.63% dividend.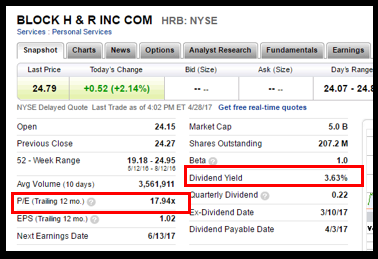 You canai??i??t earn 3% in the bank these days plus it has a nice record of rallying from May onwards.
Below is the seasonality chart for HRB.Ai?? You can see from my red arrow Iai??i??ve drawn that this company usually rallies hard from May until August. Being that April is a huge tax month, itai??i??s not surprising that this company who helps consumers prepare taxes with its digitally do it yourself tax solutions would have a Steller quarter.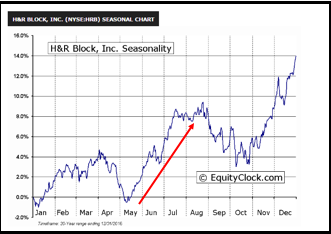 Below is a recent chart of HRB.Ai?? Iai??i??ve drawn a few channel trend lines in blue showing where resistance has been.
You can see 25 is the next big resistance level.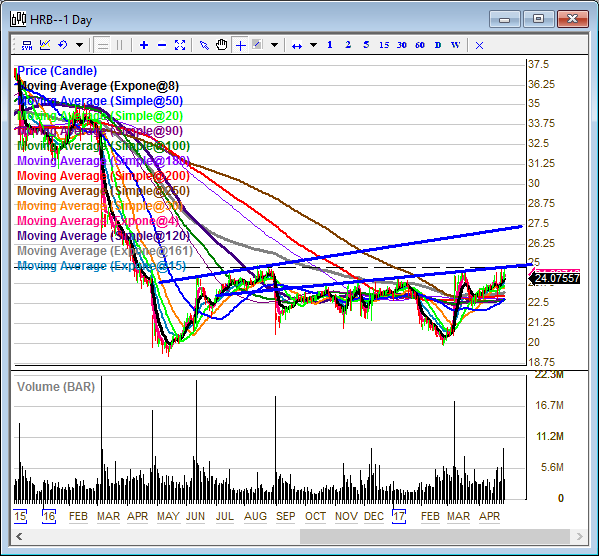 I love Seasonality patterns but I need to see the prints. The prints are the actual trades that have already been executed. It just so happens I spotted some big buy prints on HRB on March 30th, 2017. Below is a picture of them. Ai??Ai??Iai??i??ve drawn a red rectangle showing you that smart money bought over 500K shares @$23.00.

Below is a picture of the biggest trades on HRB from April 21st. Ai??Smart money bought another 248K @23.40 and 250K @$23.10.
Watch Stefanieai??i??s FREE Trading Webinarai??i??Online NOW!
Following the Dark Pools can be extremely profitable. It has allowed me to have a 93% success rate in my trading AND helped me call the last nine stock market corrections.
Dark Pools are the way big market makers like Goldman Sachs HIDE their monster sized trades so that no one else can see them until AFTER they are completed. For the last 22 years I have exposed these Dark Pool trades and helped thousands of individual investors profit from them.
And in my new online trading webinar called How to Profit Off the Dark Pool, I teach you exactly how we do it! ai??i??Stefanie K.
cafergot in target pharmacy. Click here now to watch for FREE

On April 27th, smart money bought another 300K @$24.26. You can see that trade below.

The fact that HRB is trading above all those prints is bullish, however I would like to see HRB break above that upper channel line I had drawn out. If HRB can break above 25, there is a lot of room to go up on the chart. My first target would be $27.50. My 2nd target is 30, and last final target is 32.50. zoloft buy online, dapoxetine reviews.
What also comes in May is allergies. If you suffer from pollen, ragweed or mold, you know just how devastating it can be. A trip to the pharmacy to stock up on nasal spray, eye drops and antihistamines is your number one priority. 50 million people in the United States are affected by allergies.
This leads to big dollars for the big pharma companies. Johnson and Johnson ( JNJ) is a leader in this sector with their popular Zyrtec tablets. Below is a snapshot of JNJ. You can see JNJ is also trading at a low P/E ratio of 20 times earnings.Ai?? JNJ also has an attractive dividend of 2.72%.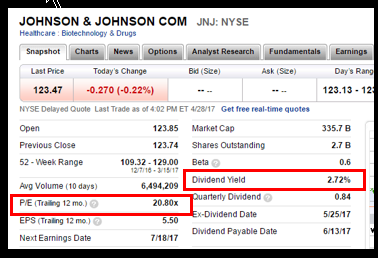 Below is the seasonality chart for JNJ.Ai?? Looks like the end of May is the start of a bigger trend up until November.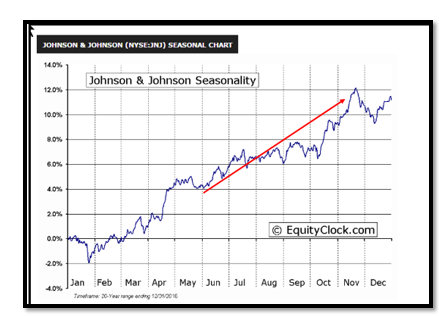 Below is a recent chart for JNJ. Iai??i??ve drawn a bull flag on the daily chart stemming from 112.50 up to 126.50.Ai?? A breakout of the top of the flag around 125 could have this stock catapulting all the way to 139 according to this pattern.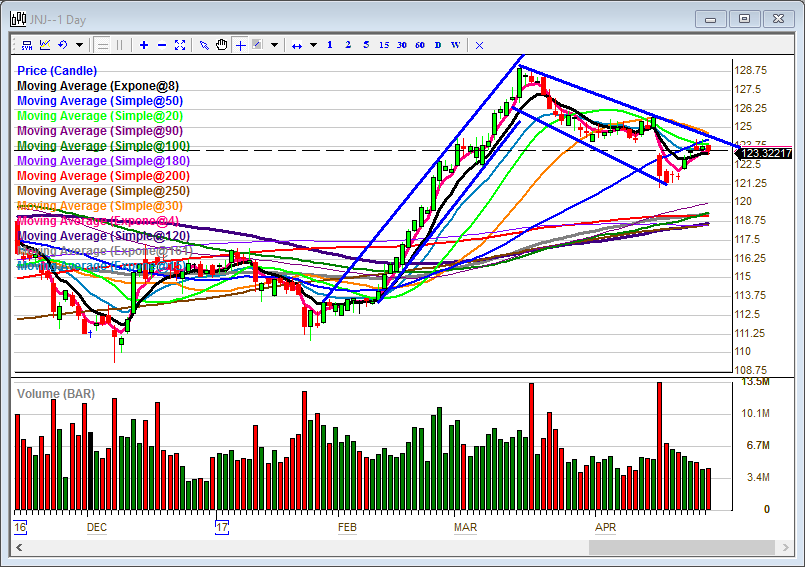 We have fundamentals plus a nice bull flag, but we still need prints. It just so happens I spotted some big ones.
Below Iai??i??ve posted a pic of where the big boys have been buying JNJ.

There was a huge 500K print on JNJ on April 19th @ $121.50. That is a cool 60 million dollar trade. There is another 500K print just below that one, but that is a market on close trade.
Many huge hedge funds canai??i??t hold stocks over night so they close out at the end of the day. I pay attention to the huge trades that are done during market hours. These are the trades that show us a directional bias.
Donai??i??t sell everything in May and go away. Ai??I am going wherever this market takes me, except on July 9th.Ai??Ai?? Bon Voyage! I will be cruising to Alaska from Seattle on The Stock Whisperer Trading Cruise. Many of my traders in my online trading room wanted to take a vacation together so they could meet one another in person.
I put together this fantastic cruise this summer so they could do just that.Ai?? If you want to join us there is still time to sign up. Click on this link to get more info.Ai??Itai??i??s going to be a bunch of passionate traders embarking on a beautiful journey of magnificent glaciers, whale watching, delicious salmon bakes, and sled dog festivities. Come cruise with me.
Until next time,
Stefanie Kammerman
Stefanie Kammerman, has trained thousands of students worldwide how to Day Trade and Swing Trade over the past 22 years.Ai?? She is the Founder and Managing Director of The Stock Whisperer Trading Company,Ai??www.thestockwhisperer.comAi??where she runs an online educational trading room called ai???The Java Pitai???.Ai?? Her unique approach of old fashioned trading in a high tech world teaches her students how to trade by reading the tape and following the Dark Pool, which is how she spotted the last 9 corrections weeks before they happened.