Much of the media seems infatuated with sharing the views of critics who bemoan the consumer-driven domestic economy and claim consumers are tapped out from paying too much for housing, piling on too much household debt, binging on student loans, maxing out credit cards and craving a ai???new car smell.ai???
There are pockets of overextended people who are not prudent stewards of their finances, but if the charts donai??i??t lie, then it stands to reason that the naysayers are simply disgruntled socialists who refuse to see the prosperity flowing within a free market economy.
That economic robustness is exhibited by a healthy uptrend in quarterly tracking data that portrays consumer confidence, spending, saving and management of debt.
buy paroxetine online without prescription, clomid reviews.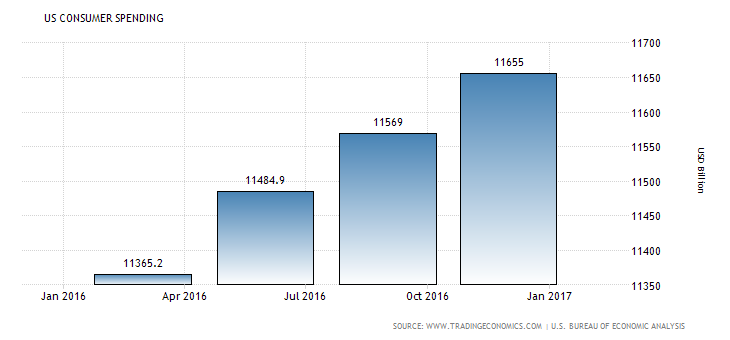 The reality is that consumer spending in the United States increased to $11,655 billion in the fourth quarter of 2016 from $11,569 billion in the third quarter of 2016, according to Tradingeconomics.com.
Even during the first quarter of 2016 when several countries saw their sovereign 10-year bonds trade with negative yields and the operating phrase of the day was ai???global deflationary spiral,ai??? retail sales posted higher growth from the seasonally strong fourth quarter of 2015.
That feat is impressive amid a super bearish tone of the stock market that saw the S&P 500 shed 14% in value from January to March 2016, following a Brexit-related sell-off in August-October time frame (see chart).
Conventional wisdom is that stock market corrections of 10-15% cause U.S. consumers to curb spending and to keep a close eye on the daily fluctuations in the value of their 401(k) performance in hopes it doesnai??i??t become a 201(k).
But quite frankly, as can be seen by both the two-year graph of the S&P and the three-year bar chart of U.S. consumer spending, consumers are not deterred meaningfully by short-term setbacks spurred by events beyond our shores.
The labor market and real estate markets were displaying good strength during this six-month period of stock market weakness. Consumers just didnai??i??t get that rattled by it because there were no glaring signs the economy was rolling over.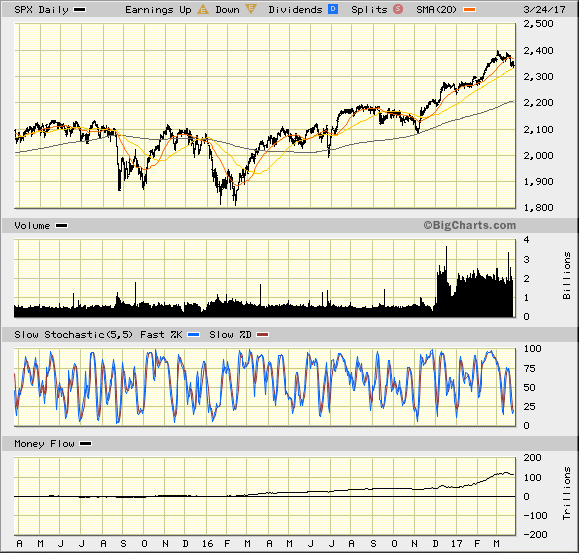 Source: BigCharts.com
From the table below the bar chart, one can see that the present-day U.S. consumer is functioning pretty much in the middle of the historical range. It creates a not too hot and not too cold reality.
Although consumer confidence is high, it is not overly ebullient. Retail sales are generally higher, despite all the doom and gloom surrounding mall traffic. To the contrary, spending as a whole is at an all-time record high and household debt as a percentage of gross domestic product (GDP) is near a 10-year low.
The cost of money, as related to super low interest rates and a big decline in the price of gasoline, have had a materially positive effect on consumer behavior. With wage inflation making a comeback, there is good reason to believe more gains are in store for the consumer and the U.S. economy.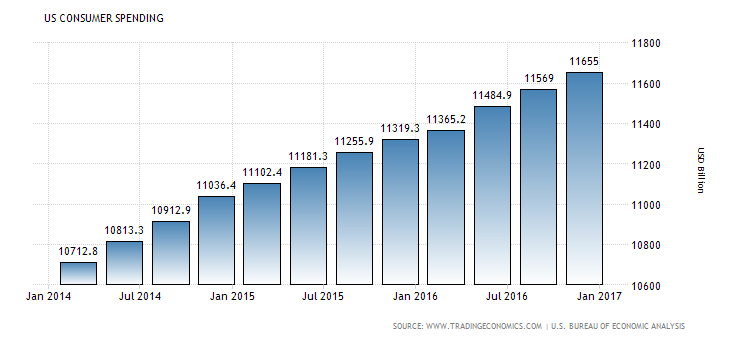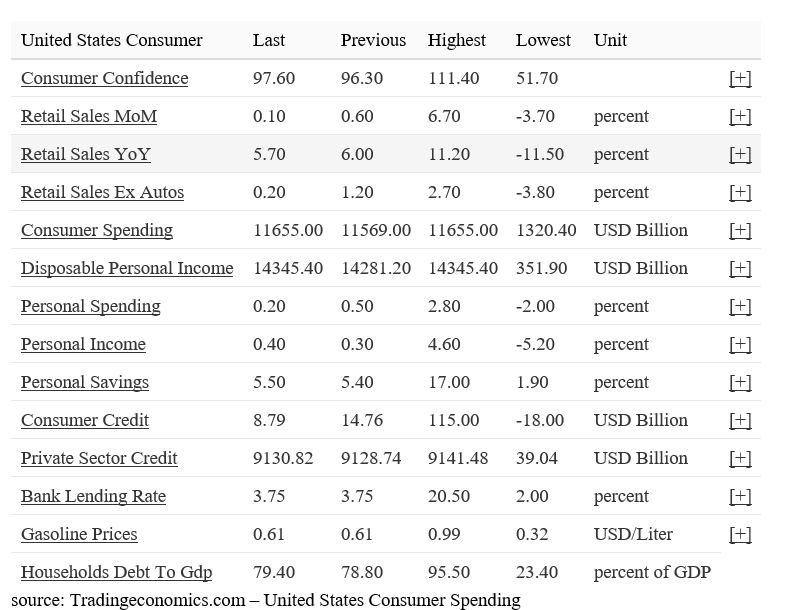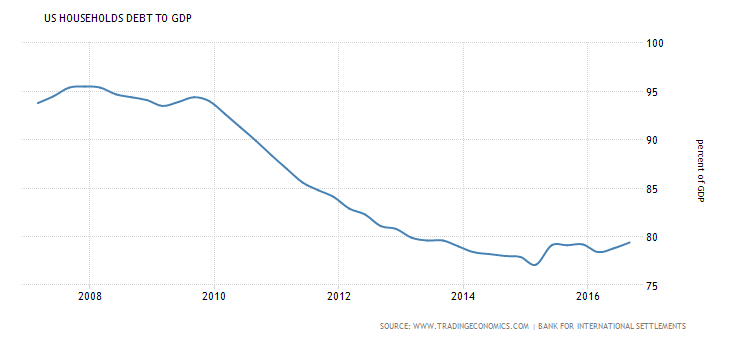 Nothing to Fear But Fear Itself and Fake News About an Extended Consumer
As bank lending rates on average have climbed from 2.00% to 3.75% for those with top credit, the Commerce Department announced recently that new home sales in February surged 6.1% compared to January to an annual rate of 592,000, which was significantly higher than economistsai??i?? consensus estimate of 571,000.
In the past 12 months, new home sales are running 12.8% higher than they were a year ago and at a seven-year high. Consumers are likely sensing the Fedai??i??s intent to further normalize interest rates and thus to get off the fence and secure low mortgage rates while they last.
But again, there is growing evidence that 2017 is shaping up to be another solid year for the U.S. consumer balance sheet. This doesnai??i??t take into account any positive catalysts from tax reform efforts that are on a fast track after the health care repeal and replace effort was scrubbed. My point in highlighting the U.S. consumer is to make known the durable nature of our consumer-led economy.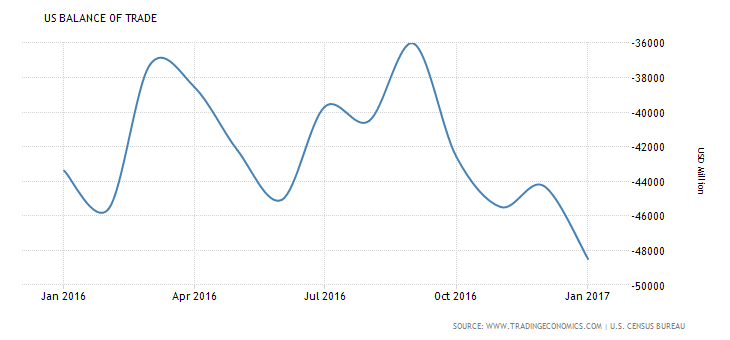 Even though first-quarter GDP data may be revised lower due to a massive trade deficit and a surging dollar during the first quarter of 2017 that has since retraced much of its gains, what defines much of the underlying health of the broad economy is whether job growth, wage growth, savings growth, home appreciation and household debt are going in the right direction.
I would argue that they are. And I also think that the stock market agrees with this line of thinking.Ai?? As much as the main stream media may want us to think otherwise, the U.S. consumer is marching on.
In my flagship high-yield advisory service Cash Machine, Iai??i??ve identified three powerful consumer-based real estate investment trusts (REITs) for our Safe Haven Portfolio to tap the jump in smartphone and mobile device use, lodging and leisure, as well as e-commerce logistics and distribution.
These and other core holdings that are tied to the U.S. consumer are a major investment theme and offer a pure play on rising discretionary consumer spending, as well as secular long-term trends.
To learn more about these three must-own consumer REITs and other high-yield assets with strong sector momentum, click here and discover how to maximize income in the current market landscape.
Until next time,
Bryan Perry
Ai??Bryan Perry has spent more than 20 years working as a financial adviser for major Wall Street firms, including Bear Stearns, Paine Webber and Lehman Brothers. Bryan co-hosted weekly financial news shows on the Bloomberg affiliate radio network, and heai??i??s frequently quoted by Forbes, Business Week and CBSai??i?? MarketWatch.Ai??With three decades of experience inside Wall Street, Bryan has proved himself to be an asset to subscribers who are looking to receive a juicy check in the mail each month, quarter or year.Ai??Bryanai??i??s experience has given him a unique approach to high-yield investing.