When it comes to reading price charts, moving averages reign as the most popular indicator used by traders and investors, alike.
Why? When used appropriately, these single line indicators can tell you 1) when to buy a stock or ETF, 2) how to manage that positionai??i??s risk, and 3) when to take profits.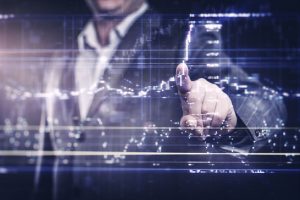 Personally, I always think of moving averages as having the same traits of my favorite uncle.
They are reliable, even-tempered, and always convey common-sense opinions.
Ai??What Is a Moving Average?
A moving average is a single-line indicator that is plotted over price on a price chart. This line connects closing prices and averages them over a designated time period.
(Remember, the closing price of an asset is the most important price of the day, week, or month, because that represents the price in which traders and investors show commitment.
When market players are willing to hold overnight, over a weekend, or into the next month–all closing prices–that shows positive commitment toward the asset being held.)
How are Moving Averages Calculated?
Fortunately for us, our charting software calculates moving averages for us, and then plots them on a chart.Ai?? In earlier years, though, before the Internet was in full swing, chartists plotted moving averages (and other indicators) by hand.
Yes, it was a lot of work, but in doing so, I believe these folks had intimate knowledge of chart indicators and how they work that meant they had an edge on reading indicatorsai??i?? signals.
With that in mind, please take a minute to learn how moving averages are constructed.Ai?? Pretend youai??i??re drawing a simple fifty-day moving average on a paper chart, by hand. Hereai??i??s how to calculate it:
After todayai??i??s market close, note each of your stockai??i??s closing prices for the past 50 days and add them together.
Divide that sum by 50. This shows you the average price of your stock over the past 50 days.
Place a dot on your stockai??i??s chart for that price at todayai??i??s date.
Tomorrow, repeat the same calculation, but drop off the oldest price and add tomorrowai??i??s closing price.
Place a dot your stockai??i??s chart for tomorrows price on that date.
Connect the dots, and voila ai??i?? that line is your current 50-day moving average.
Ai??Examples of Moving Averages at Work
If you want to use a moving average as a guide to buy, manage, and sell a position, a common line for that strategy is the 50-day moving average.
The 50-day MA is considered to be a medium-term trend indicator. In fact, many investors consider stocks trading below that line to be weak, and stocks trading above the line to be strong.
Below, on the daily chart of Apple, Inc. (AAPL) you can see an example of how the 50-day moving average (green) acted as a guide to entry, when Apple moved above the that line in December 2016.
Since that positive signal, the tech behemoth has soared in an uptrend, with the rising 50-day MA acting as support beneath price. Ai??So far, that uptrend has offered investors a sweet 30% profit.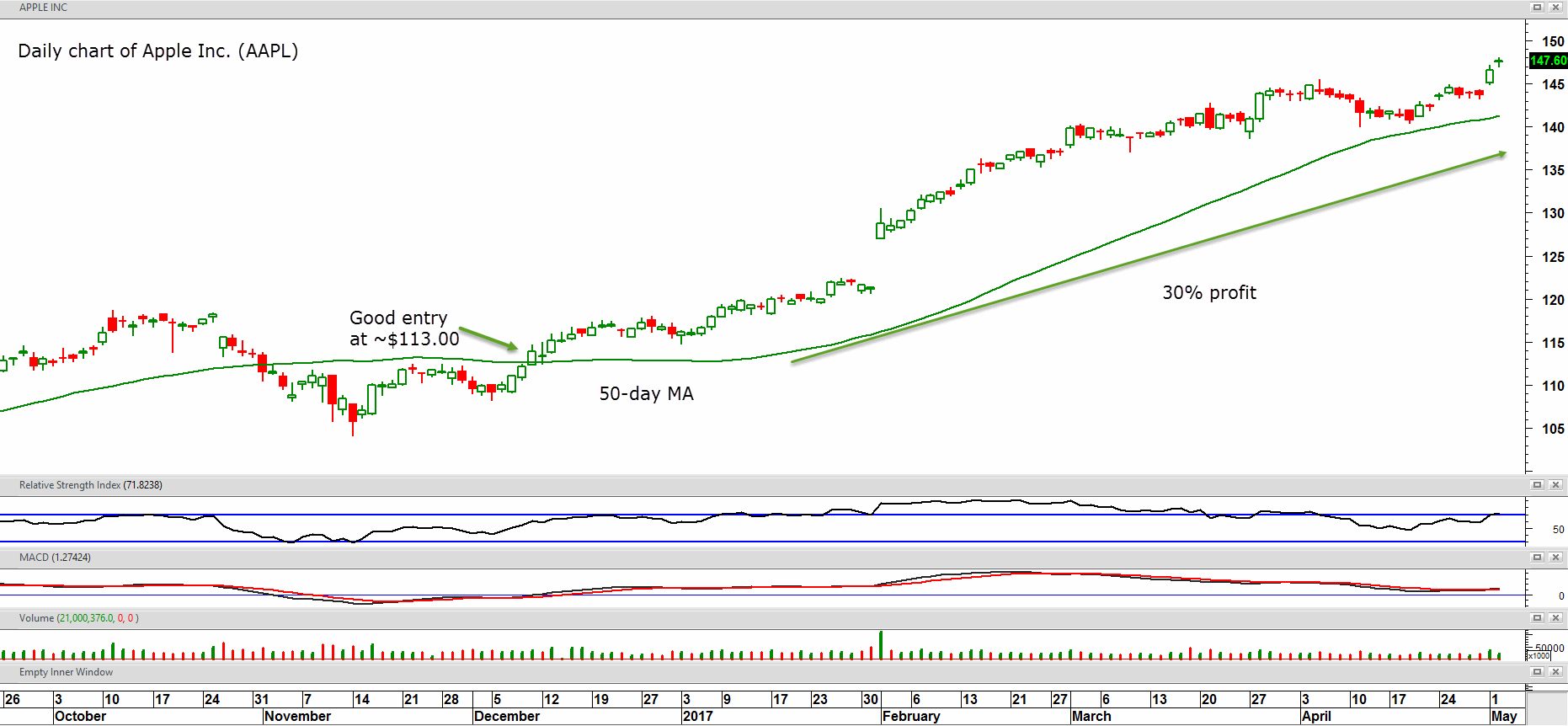 Chart Courtesy of MetaStock
As of todayai??i??s date (May 2), Apple has not yet tested the 50-day MA to the downside, but please know that if it falls to close below that line for more than one to three days, many traders and active investors will sell their shares and pocket their profits.
clomid online, acquire clomid.
Special Offers to Weiss Educational Readers
When you approach the stock market. . .
Do you see stocks ready to shoot higher, but youai??i??re hesitant to push the ai???buyai??? button?
Do you wish you knew what is the best price to buyai??i??but donai??i??t know how to find it?
Once you buy a stock or ETF, do you sell too soon and miss out on big profits?
Let 20-year veteran Toni Turner be your guide to more successful trades . . .
In her online training, Three Winning Setups, Toni will show you three set-ups that use combinations of moving averages proven to be successful for buying and selling opportunities. Youai??i??ll learn when to buy, how to manage your trades, and when to sell . . .
Right now, for a limited time only, Weiss customers can get 10% discount off of this already low-priced training. Just enter this discount code at checkout:Ai?? TWS10
Click here to check out Three Winning SetupsAi??and get your discount!
On the daily chart of the Financial Select Sector SPDR ETF (XLF) below, which holds 65 companies in the financial services sector, Iai??i??ve added a 20-day MA (red). Ai??This ai???fasterai??? moving average gives us more information when it comes to a high-probability entry, the subsequent trend, and weakness coming into the trend after an approximate four-month run.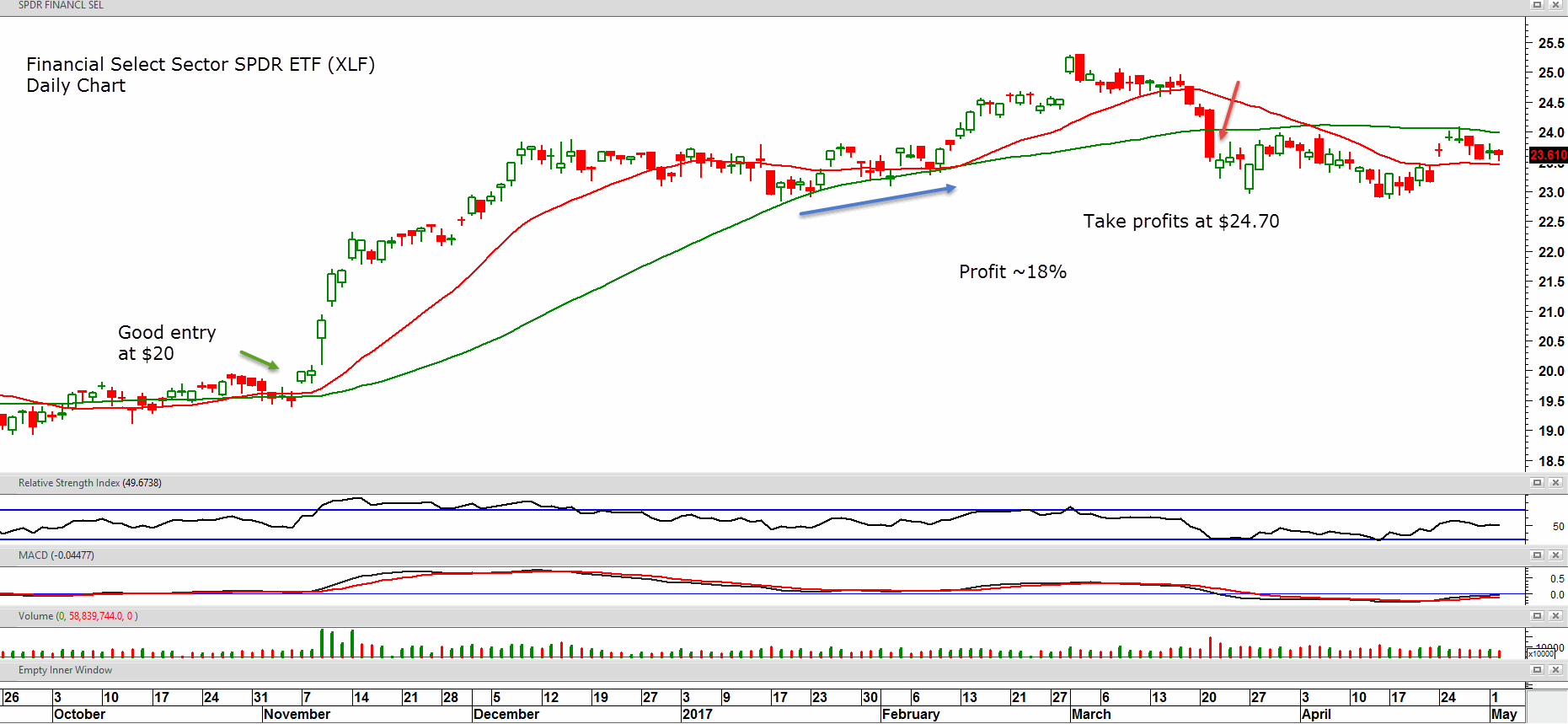 Chart Courtesy of MetaStock
As you can see, the XLF jumped nicely out of its base in November 2016, and the 20-day MA started higher, confirming price strength and a strong entry (green arrow) above both moving averages.
The financial ETF continued higher into December, but in early January, it dipped below the 20-day MA, warning that it was losing its mojo, at least in the short term.
Toward the end of January and early February, the XLF consolidated into and then rode the 50-day MA on a horizontal path.Ai?? Importantly, it never closed below it (blue arrow). This told us that the XLF was using the 50-day MA for positive ai???support.ai???
By mid-February, the financial SPDR gained enough buyers to move it back atop its 20-day line once again, and even send it to new highs ($25.29) by the first of March. On March 2nd, however, the XLF suffered a reversal day, and then slipped south from there.
Once the fund fell below its 20-day line on March 17th, the 20-day MA turned down, telling market players that in the short-term, the Financial SPDR was ai???losing its giddy-up.ai???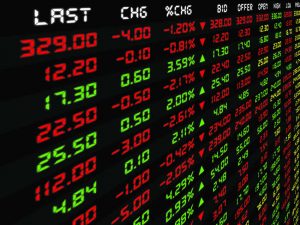 That told market players to pay attention. On March 21, the XLF sliced decidedly below the 50-day MA, signaling many active investors to exit the position and take profits (red arrow), just below $24. That action was confirmed as price remained below the moving average line for the next three days. Ai??Position profit: about 18%.
As of the current date, the XLF remains below its 50-day MA. Should it rise to close above that line for one to three days, traders and investors may enter a new position in the fund.
If it remains below that line, or even heads lower, many will be glad they took profits when they did.
Moving averages are excellent, easy-to-use price indicators that used alone or in combination with other moving averages, can issue buy and sell signals. They can also act as effective decision-support tools for risk management.
If you are not acquainted with moving averages, you may want to invest some time in learning more about them. They can definitely help you minimize your losses and maximize your gains.
Until the next time, keep green on your screen!
Toni Turner
Toni Turner is the President of TrendStar Group, LLC, is an accomplished technical analyst as well as a popular educator and sought-after speaker in the financial arena.
She is also the author of best-selling books: A Beginnerai??i??s Guide to Short-Term Trading, Short-Term Trading in the New Stock Market and Invest to Win: Earn and Keep Profits Bull and Bear Markets With the GainsMaster Approach, co-authored with Gordon Scott, CMT.