As I discussed in my previous article, Americans have been using File And Suspend and/or Restricted Application strategies to maximize their social security benefits for quite some time. Unfortunately, a new law was recently passed affecting the use of those strategies. In fact if you are one of these folks planning on using either strategy, the good times may be over by May 16 of next year ai??i??and could cost you as much as $120k!
In the last article, I discussed the File and Suspend Strategy in-depth; the strategy itself, the change, how it might impact you and/or your spouse; I also offered advice for singles, married couples, divorced couples and survivors with respect to the File and Suspend Strategy.
In todayai??i??s article, I want to tackle the Restricted Application Strategy in the same manor.
Strategy #2: The Restricted ApplicationAi??Ai??Ai??Ai??Ai??Ai??Ai??Ai??Ai??Ai??
The Strategy: Filing a Restricted Application at Full Retirement Age or later allows the filer to file only for spousal benefits (worth up to 50% of their spouseai??i??s Full Retirement Age benefit) while letting their own benefits continue to grow and accumulate Delayed Retirement Credits are at the rate of 8% per year until they claim their own benefits at a later date.
The Change: With the exception of those filing for survivor benefits, anyone born in 1954 or later will no longer be able to file a Restricted Application for spousal benefits only. Those attempting to do so will be subject to the ai???Deemed Filingai??? rule which requires that Social Security consider your eligibility for all benefits for which you are eligible.
The Impact: Filing a Restricted Application is being eliminated for those born in 1954 or later (with the exception of those filing for a survivor benefit).
Important Deadlines: You must be at least 62 by December 31st, 2015.
Ai?? celebrex for sale, Zoloft withoutprescription.
What You Should Do: Talk with a Social Security Advisor and obtain expert advice on who should file a Restricted Application and when. Your Social Security Advisor can even complete the filing for you given that it is difficult to complete correctly to implement the strategy. The Restricted Application strategy is very valuable and it is important to obtain expert advice prior to proceeding.
Singles: Because a Restricted Application is only valuable to those who are or have been married, singles will be unaffected by this change.
Married Couples: All married couples, with at least one spouse who is at least age 62 but under 70, and that has not already claimed benefits on their own record, need to consider whether it would be beneficial to file a Restricted Application to help them maximize their benefits. Married couples have the most to lose by failing to consider these strategies. Failing to take advantage of this strategy can often cost couples $50k to $60k in lifetime benefitsai??i?? or possibly more than $120k in lifetime benefits when combined with a File and Suspend strategy.Ai??
Divorced: All divorced individuals born prior to 1954, who have not already claimed benefits on their own record, should highly consider and evaluate filing a Restricted Application in order to preserve the option to receive spousal benefits while also obtaining Delayed Retirement Credits. This is often worth $50k to $60k in benefits.
Survivors: Survivors are unaffected by this new legislation and will continue to have the same options available to them going forward. Survivors should carefully consider their Social Security options because they can be eligible for benefits on one record while continuing to accrue Delayed Retirement Credits and claim on the other record at a later date.
The Bottom Line: Don't Gamble With Your Social Security Benefits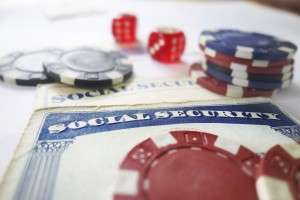 Each situation and circumstance is different. Most people simply do not understand the old rules and donai??i??t have the time to do in-depth analysis of each strategy and every new rule change; and unfortunately, these new changes will mean that most people will leave money on the table…money they worked hard for and earned. My firm and I do not want you to be among those statistics.
We can help you figure out the pros and cons of any of the strategies, and help you determine the right ones for you. Given the complexity of the rules, getting expert advice is critical when determining how best to maximize your Social Security benefits.
You can trust SocialSecurityAdvisors.com to provide you with the perfect balance of strategic advice and personalized attention.
You can also learn more about these important Social Security changes by watching a video overview or signing-up for an upcoming webinar at http://www.SocialSecurityAdvisors.com/changes
Until Next Time,
Matthew Allen
Matthew Allen is Co-Founder/CEO of Social Security Advisors.Ai??As a serial entrepreneur who is driven by a passion for providing industry-leading advice to his clients, Matthew has been at the forefront of financial services for over a decade. Matthew brings insightful product vision, finance, and leadership skills to Social Security Advisors. In addition to co-founding Social Security Advisors, Matthew also founded The Universal Group of Companies, a private investment firm, in 2004. From 2000 to 2004, Matthew was a NYSE Market Maker with LaBranche & Co., a Fortune 500 New York Stock Exchange firm.Ai??