One thing we know for sure . . . we humans are a predictable breed.  When confronted with certain situations, we tend to repeat the same emotions, over and over again.
And for those of us who participate in the financial markets, this likely behavior can translate into sweet profits.
How?  Let me explain it this way . . .
As you may know, market participants rely on two basic types of analysis:  fundamental and technical.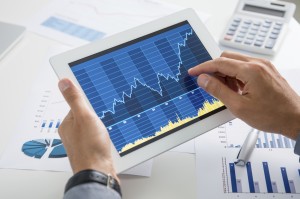 When you study a public company using fundamental analysis, you check the company's balance sheet, earnings history, and valuations such as its price/earnings or price/sales ratios. I like to say that fundamental analysis represents "the words."
When you study a public company's price history using technical analysis, you look at a price chart and assess the price of the stock as it has moved through time.  I like to say that technical analysis represents "the pictures."
I evaluate both fundamental and technical analysis on a stock before I purchase shares, as I believe that both forms of analysis are highly valuable.
Still, I recognize that technical analysis—the "pictures"—can show me vital information fast.  These pictures can save me—and make me—money. And, they can do the same for you.
Human Emotions on a Screen
When you look at a price chart, you are looking at human emotions on a screen.  Optimism, greed, euphoria, anxiety, fear and downright panic may all be evident on a stock's price chart.
To take this a step further, our buying and selling behavior causes price to "draw" repeated and identifiable patterns on a chart.
Technical analysts have assigned names to many of these price patterns. One of these price patterns that I've seen quite a bit on tech stocks in the past weeks is named "head-and-shoulders."
And yes, the pattern looks just like its title. The ability to spot this simple price pattern on a chart can help you save hard-won profits and avoid giving back your gains.
Special Offers to Weiss Educational Readers
The market's been trading near its highs for months now . . .
Is it topping out? Or is it getting ready to push higher? Should you take profits here? Go long? Sell short?  Or stand on the sidelines?
Toni can help. Jump start your trading profits by discovering how to read price charts easily and accurately.
When you discover Toni's five simple steps to reading a price chart, you'll be able to trade in the market with more confidence and more success.
And whether you trade stocks, ETFs, futures or currencies, knowing how to read price charts can increase your profits and save you money.
Right now, Weiss customers can save 20% on Toni's already-low-priced online recorded webinar, "How to Read Charts."
To take advantage of this offer, at checkout enter this code: WEISSHRC
Click here for more info and purchase.
But hurry, this discount won't last long.
And remember learning how to evaluate charts quickly and accurately is one of the most important skills a trader or investor can have!

How to Spot a Head-and-Shoulders Pattern
The head-and-shoulders price pattern is known as a "top reversal pattern."
Just like a long-distance runner stops at intervals for water and a quick rest, after a stock has been shooting higher for weeks to months, it needs to rest and "roll over" to lower price levels.
Depending on market, sector and individual company news, that rest can be shallow and mellow, or it can result in a sharp five-percent, or higher, drawdown.
The head-and-shoulders "topping" pattern warns us that our stock may soon be headed south.  As a trader and/or investor, you are wise to be able to identify this pattern, especially with stocks that you currently own.
When the pattern is fully-formed and price breaks the "neckline" (show below), you may want to take partial or all profits, or at least firm-up your protective stop to keep your gains safe.
The daily chart below shows the PowerShares QQQ (QQQ) ETF.  This fund follows the NASDAQ 100 Index, where the top 100 non-financial stocks in the NASDAQ market reside.
As you can see, the QQQ, boosted by its powerful tech stocks like Facebook Inc. (FB), Alphabet Inc. (GOOGL) and Amazon.com Inc. (AMZN) moved in a grand uptrend this year.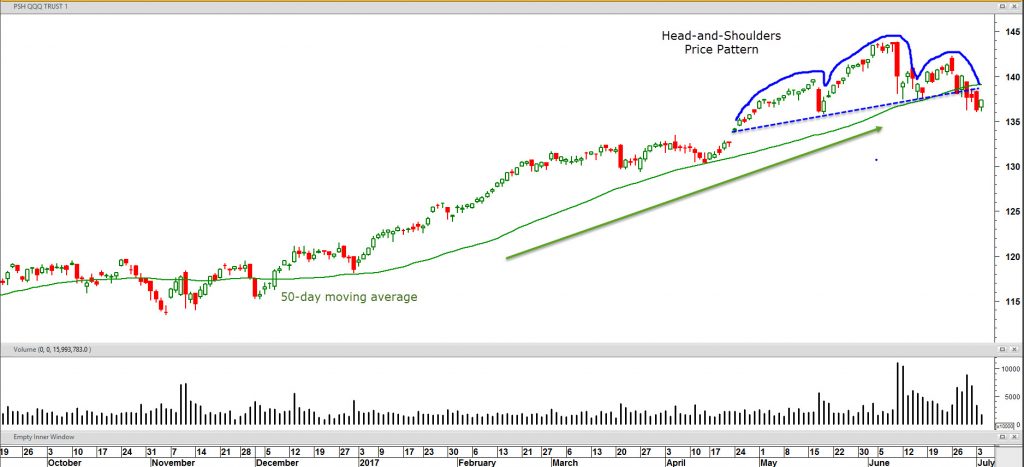 Chart Courtesy MetaStock
Still, nothing goes up forever, and in May, the QQQ started to tire, and so created its "left shoulder."  By June 12, price had touched its June 9 high ($143.90) and then fell back to support to finish the "head."
Then, Johnny-Come-Lately's jumped in for a last swipe at the tech heavy ETF, not knowing that they were forming the final part of the formation, the "right shoulder."
As the right shoulder formed, the bears began to drool.
They knew that if price dropped below the "neckline" (dotted line) the likelihood of price slipping even lower would be a good bet.  (As well, price dropped below the 50-day moving average.) After all, sharply dropping prices begets fear . . . which begets selling.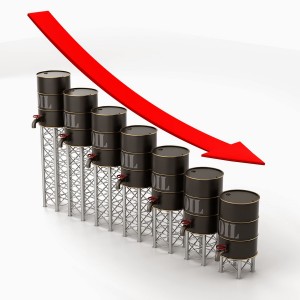 As an investor, when I see a fully-formed head-and-shoulders pattern on one of my current positions, I know price can continue to fall for a period.  And, as mentioned above, in order to save my gains, I take partial or all profits.
If I keep a portion of my shares, (in case the move down turns shallow) I enter a protective stop with my broker to keep my profits intact.
The head-and-shoulders is a common price pattern that forms at the top of a high-momentum uptrend.
Knowing how to spot this pattern and act to keep your profits safe makes it a picture that can be worth hundreds–or thousands—of dollars.
Until the next time, keep green on your screen!
Toni Turner
Toni Turner is the President of TrendStar Group, LLC, is an accomplished technical analyst as well as a popular educator and sought-after speaker in the financial arena.
She is also the author of best-selling books: A Beginner's Guide to Short-Term Trading, Short-Term Trading in the New Stock Market and Invest to Win: Earn and Keep Profits Bull and Bear Markets With the GainsMaster Approach, co-authored with Gordon Scott, CMT.