Conventional wisdom is straightforward on the subject of currencies: If your central bank raises short-term interest rates, your currency rises in value.
Thatai??i??s one mechanism by which tighter monetary policy is translated into the real world, slowing the economy and reducing inflation pressures.
So can anyone explain THIS chart? It shows the performance of the U.S. Dollar Index, which tracks the performance of the buck against a basket of six major world currencies.
The euro is weighted the most heavily in the index at 57.6%, followed by the Japanese yen, British pound, Canadian dollar, Swedish krona, and Swiss franc.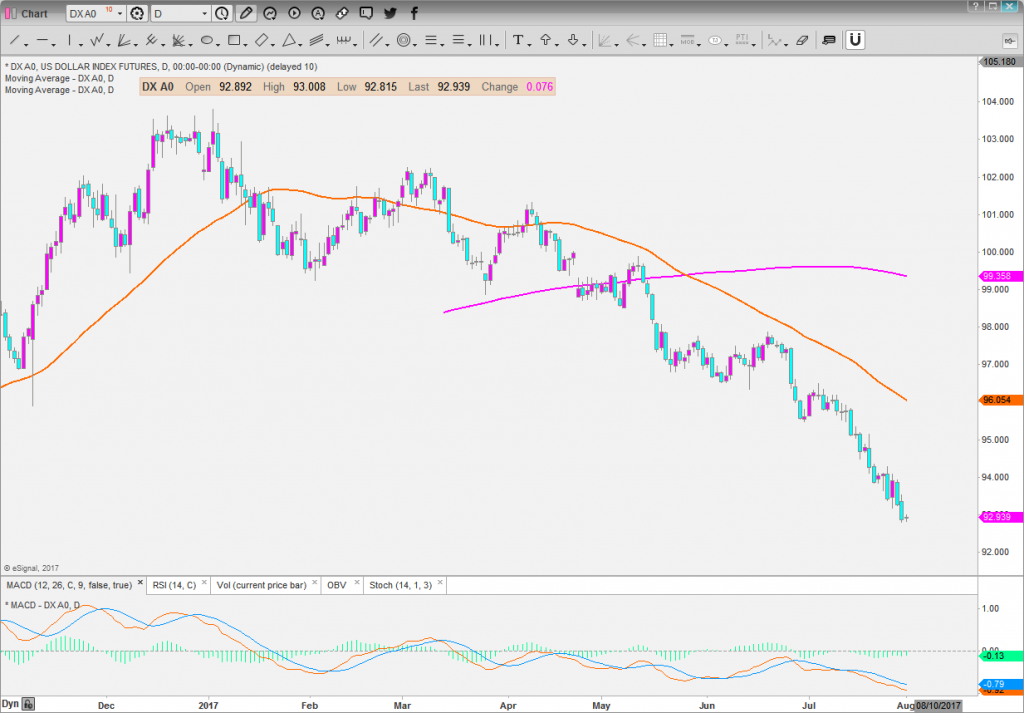 You can clearly see the dollar is sinking like a stone! To give just one illustration: Each dollar only buys about 85 euro cents now, compared with 96 euro cents back in December. As a matter of fact, the dollar hasnai??i??t been this weak against the euro since January 2015.
Whatai??i??s the first lesson for investors here? Nothing in the markets is ever ai???simple,ai??? regardless of what conventional wisdom might lead you to believe. The primary forces driving currencies today are changing expectations about relative global growth rates and future central bank policies. Let me explain …
We all know the U.S. Federal Reserve is in the midst of a tightening cycle. It first raised short-term interest rates back in December 2015, and has now done so a total of four times (most recently in June).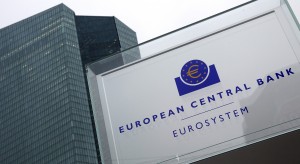 During the early part of this cycle, the European Central Bank was adamant it wouldnai??i??t follow in the Fedai??i??s footsteps. In fact, the ECB actually ramped UP its quantitative easing plans as the Fed took the first tentative steps toward tightening.
But foreign economic data began to improve several months ago. Thatai??i??s particularly true in Europe. As a matter of fact, we just learned that GDP in the Eurozone rose at an annualized rate of 2.3% in the second quarter. Thatai??i??s the fastest since 2011!
So investors are increasingly expecting the ECB to backtrack ai??i?? to dial down its QE plans and/or start laying the groundwork for future rate hikes there. And in response, theyai??i??re ai???jumping the gunai??? ai??i?? buying the heck out of the euro to position for tighter monetary policy overseas.
Politics are likely also playing a role. The increasing chaos and frequent personnel changes in the Trump White House are probably causing some investors to pull back from the dollar and dollar-based investments. Trumpai??i??s failure to enact the growth-boosting measures he proposed, including large tax cuts and massive infrastructure spending programs, are also leading to questions about whether weai??i??ll ever see 3% GDP growth here.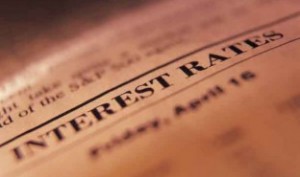 Bottom line? Things are never cut and dried in the interest rate markets. It takes years of experience to figure them out, and to understand their complex interactions with related markets like currencies.
Iai??i??ve dedicated most of my professional career to doing precisely that. Plus, I recently produced a comprehensive educational course baclofen tablets buy, buy zithromax online. How to Pile Up Profits from the Greatest Interest Rate Cycle in 5,000 YearsAi??to pass on that knowledge to investors like you. That course also comes with a special report outlining several investments designed to help you profit from todayai??i??s changing capital markets.
If you havenai??i??t already checked it out, I recommend doing so by clicking here. It should help boost the returns from your investment portfolio right away.
Until next time,
Mike Larson
Mike Larson is a Senior Analyst for Weiss Ratings, and is also the creatorAi??of the courseAi??"How to Pile Up Profits from the Greatest Interest Rate Cycle in 5,000 Years". A graduate of Boston University, Mike Larson formerly worked at Bankrate.com and Bloomberg News, and is regularly featured on CNBC, CNN, Fox Business News and Bloomberg Television as well as many national radio programs. Due to the astonishing accuracy of his forecasts and warnings, Mike Larson is often quoted by the Washington Post, Chicago Tribune, Associated Press, Reuters, CNNMoney and many others.