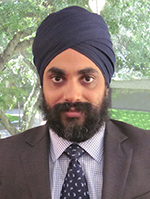 After the election, it was obvious to me that stocks were the best game in town. Iai??i??ve covered the reasons before.
But suffice it to say, investors bought stocks because they were looking for fiscal stimulus, less regulation, and more spending to take the baton from Federal Reserve Chairman Janet Yellenai??i??s monetary stimulus.
But that hope carried this market so far, against great odds, that itai??i??s now trading for its highest forward price-to-earnings ratio since 2004. Take a look …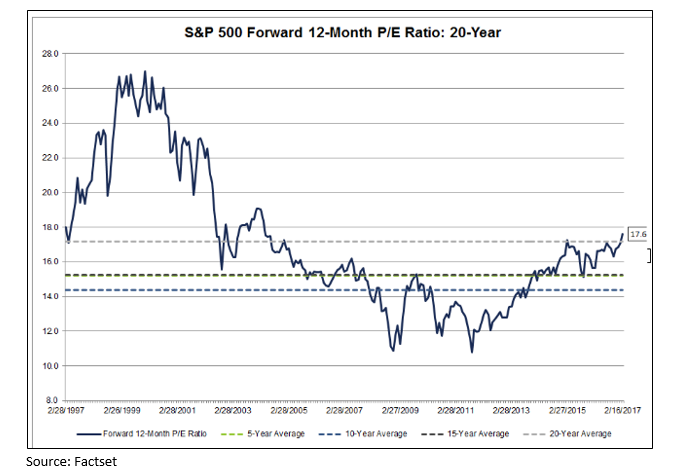 Sure, some of that was because we were coming out of a period where earnings growth was negative thanks to falling oil prices and slower global growth.
But oil has since risen around 100%, propelling the overall S&P 500 indexai??i??s earnings growth into positive territory again, and yet the P/E has still continued to rise. That raises concerns about stock valuations.
Research from Goldman Sachs also shows that earnings estimates for 2017 are coming down from lofty levels. But the market has continued to rally anyway.
That unfortunately means that when this market does take a leg lower, investors looking to fundamentals to find support may be disappointed.
Last week, I told my Top Stocks Under $10Ai??subscribers that the current technical setup of the S&P 500 points toward resistance at 2,400. You can see that level on this chart, and will notice that itai??i??s not too far away.
While it may seem unlikely that this freight train of a market could ever find resistance, I believe itai??i??s just a matter of time, and the selloff from that level could be swift.
These Stocks Which Trade Under $10 Could DOUBLE In 2017 ai??i?? All Thanks To President Trump!
Forget about buying high-priced shares of Apple, Amazon, or Google in 2017.Ai??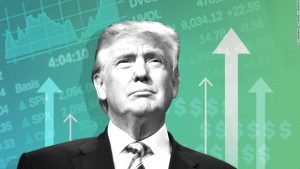 Instead, there are a whole category of stocks that all trade for under $10 per share. And thanks to President Trumpai??i??s new business, foreign trade, and tax policies ai??i?? they are set to jump up 40%… 75%… up to 100% or more.
These ai???Trump Tradesai??? could make you a LOT of money in a short amount of time.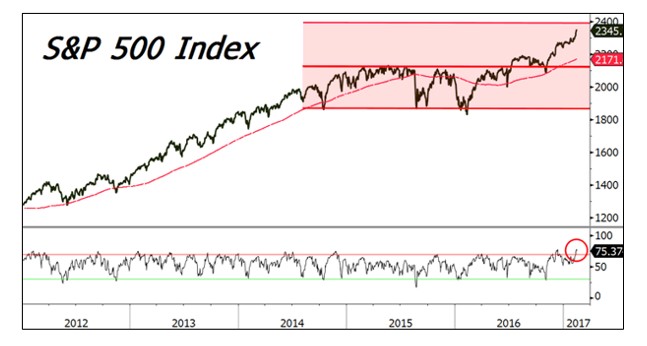 Other assets are starting to concern me as well.Ai?? Take the action in gold and Treasury bonds. Gold is a ai???risk offai??? proxy. That means investors typically buy the metal when theyai??i??re worried about uncertainty, inflation, or heightened geopolitical risk. Bonds are also a ai???risk offai??? asset, something investors flock to when they get nervous.
You can see in this chart that both bonds and gold initially sold off after the election, while stocks rose. That was a healthy divergence ai??i?? a sign of increased risk appetite among investors.
But that began to change earlier this year, with gold and bonds moving sideways to higher. I view that as a sign investors are taking in protection again as this rally continues ai??i?? more reason for concern as we near that 2,400 level in the S&P.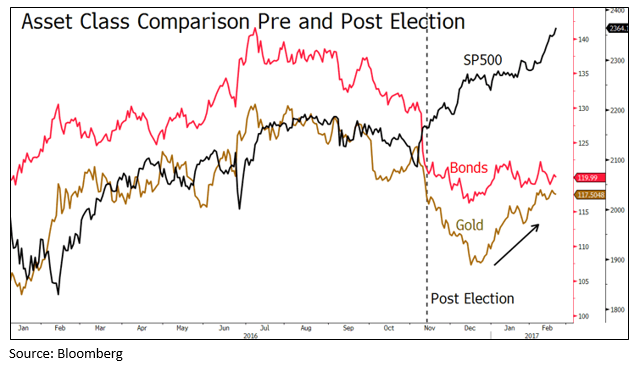 Finally, while small caps have risen some 17.5% since the election (compared to only 10.5% for the S&P 500), theyai??i??ve started to underperform their larger cap peers a bit recently as we near higher valuations and technical resistance.
Thatai??i??s another indicator that despite the major averages hitting new records (largely thanks to Amazon (AMZN, Rated ai???Cai???), Apple (AAPL, Rated ai???Bai???), Microsoft (MSFT, Rated ai???B+ai???), and other big caps), stocks on the periphery are starting to lose some momentum.
Bottom line: These are all short-term warning signs, even as the longer-term economic picture is still supportive of higher prices. So now is a good time for caution.
Youai??i??re likely to get an opportunity to buy stocks cheaper in the next few weeks. My plan is to have my Ratings Screeners and shopping lists ready for my subscribers as this correction unfolds, and I recommend you do the same.
Best,
Mandeep
Mandeep Rai has more than 15 years of investing experience, working as both a stock and credit analyst. At Weiss Ratings, he researches and evaluates financial and economic themes, and makes decisions on when to buy or sell specific shares for the Top Stocks Under $10 portfolio.