Much has been written about the current low volatility environment and the possible reasons, from Central Bank intervention, to interconnectivity of global markets and more sophisticated hedging strategies.
But now, there is also a growing concern that traders, both institutions and retailers alike, are becoming complacent such as in this recent zoloft no rx, order lioresal. Wall Street Journal article.
When volatility related produced such as VIX futures and Exchange Trade Funds iPath S&P VIX Futures (VXX) become available to trade a decade ago their main selling point was as a hedge against a market downturn on the notion volatility rises as stock prices fall.
The timing was fortuitous as the financial crisis led to soaring VIX and people piled into buying volatility.
Unfortunately, due to the mean reverting nature of volatility, structure of these products which have ai???contango dragai??i?? and the decaying nature the options typically purchased to gain upside exposure there is a huge headwind as ETFs head towards zero over time.
The VXX, which has needed multiple 4 to1 reverse splits to keep shares in the double digits has declined by 98%, from over $1,200 to $13, over the past 5 years.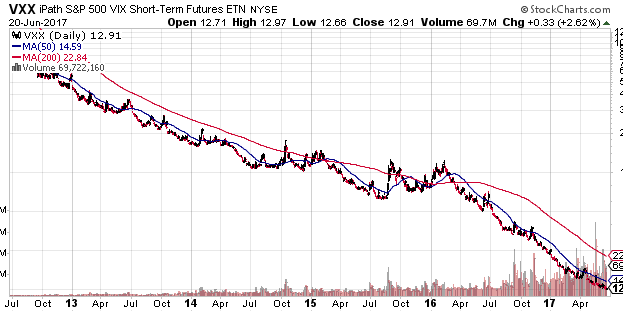 The flip side of the punishing decay favors short sellers, allowing them to profit when volatility is flat and sometimes even when it rises. Instead of buying insurance, selling it became the new hot trade.
Traders have become conditioned over the past few years that spikes in the VIX, whether itai??i??s due to a market decline or a geopolitical event such as Brexit, will be brief and opportunities to bet that the VIX will quickly collapse again.
And people have been doing that in droves as indicated by the growing short interest in the VXX.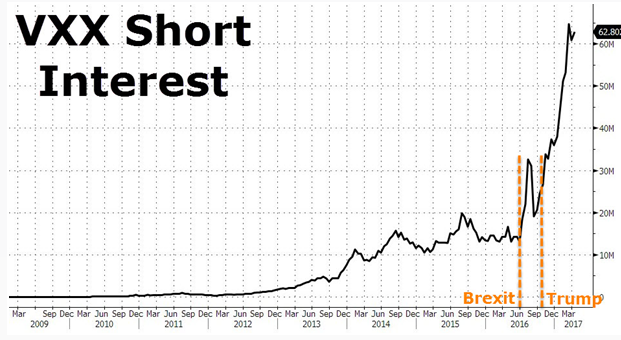 So is shorting volatility a free lunch?
While the many newcomers to the trade are likely to believeAi??so, anyone whoai??i??sAi??been involved in markets longer than the past few months knows it is anything but.
Shorting volatility is somewhatAi??equivalent to a highly leveraged bet on the S&P 500. When the S&P 500 goes up, volatility tends to go down, and shorting volatility tends to make money.
When the VIX is in contango (2ndAi??month futures are higher thanAi??front month futures), as is often the case, shorting volatility via ETNs like VXX provides an additional return via the roll yield.
Here is the VIXai??i??s current term structure: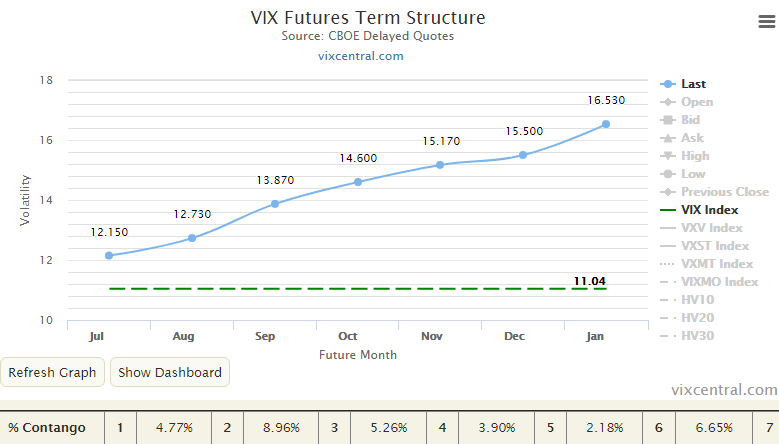 So as long as the spot VIX Index remains low, and VIX futures retain their nice, steep contango, it is a gold mine to own XIV and harvest that contango.Ai?? That is what has led some analysts to proclaim that XIV is a great solution as a permanent part of oneai??i??s portfolio.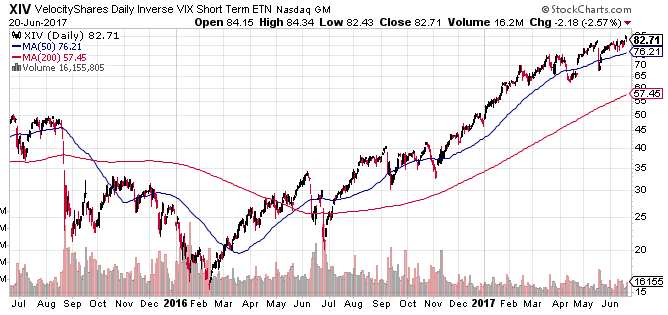 As we saw in the charts above, weai??i??ve been in one of the lowest volatility periods in history, andAi??VIX futures have been in a state of contango for much of this time. This has led to an almost vertical run-up in the short volatility playAi??(XIV), particularly since the market lowsAi??after Brexit.
But a free lunch it is not. With annualized volatility of 64% since inception you are paying the price for any higher return with much higher volatility. And even in the low volatility environment since 2010 when XIV launched, it experienced a 74% drawdown in 2011 and a 68% drawdown from 2015-16.
IfAi??a more extended bear market should ensue (the 2011 bear was shallow and short-lived), a 90+% drawdown would not be unexpected.
But there are times when XIV turns out not to be such a good investment, times when there is very little opportunity left to harvest.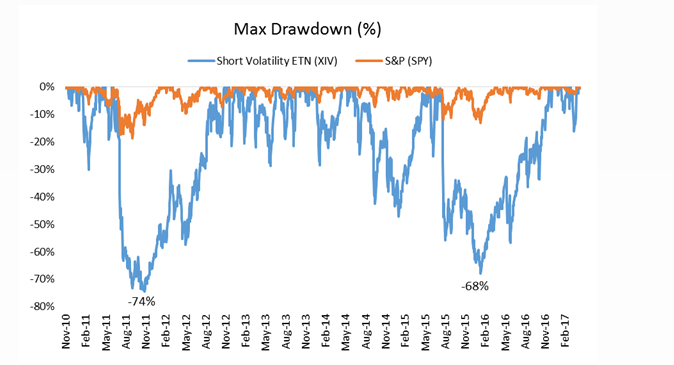 Will people continue to press this bet?Ai?? Probably but I would say at this point the risk/reward is now no longer in favor of those who have enjoyed and profited from shorting volatility in the recent months.
Is a big loss coming for those betting on a continued decline in volatility? You can count on it; itai??i??s not a question of if but when.
With the VIX hanging aroundAi??10, a volatility spike is inevitable. And given the extreme low levels today, evenAi??a move back to the high teens in the VIX (the historical average) will be painful as the leverage being employed means a 50% will feel like a huge move.
When that move occurs, those lining up in recent weeks to grab the supposed free lunch will learn the hard way that there is no such thing in markets. A price will be paid ai??i?? if not today then in the futureAi??ai??i?? but it will be paid.
Kind Regards,
Steve Smith
Steve Smith is an expert options trader with 25 years experience in the markets. Steve was a seat-holder of the Chicago Board of Trade (CBOT) and the Chicago Board Option Exchange (CBOE) from 1989 ai??i?? 1997. Steve is currently the editor of The Option Specialist and runs the 20K Portfolio Program which provides all types of options trades for all types of traders.
reminyl. *Editorial Contributors' Disclaimer
The information contained within this article solely reflects the opinion and analysis about the performance of securities, investments and financial markets by the writer whose articles appear on this site. The views expressed by the writer are not necessarily the views of Weiss Educational Services, its affiliates or members of its management. While Weiss Educational Services and its affiliates accept editorial content from outside contributors, the content provided herein has not been independently verified for its accuracy. Nothing contained in this article is intended to constitute a recommendation or advice addressed to an individual investor or category of investors to purchase, sell or hold any security, or to take any action with respect to the prospective movement of the securities markets or to solicit the purchase or sale of any security. Information provided on the website is for educational purposes only. Any investment decisions must be made by the reader either individually or in consultation with his or her investment professional. Weiss Educational Services writers, its affiliates and staff may trade or hold positions in securities that are discussed in articles appearing on the website. Nothing on this website is intended to solicit business of any kind for a writer's business or fund. Weiss Educational Services, its affiliates, management and staff as well as contributing writers will not respond to emails or other communications requesting personalized investment advice.