One of the top stories on CNBC today is about a trader who is relentlessly buying VIX futures despite millions in realized losses.
No one can seem to figure out what the purpose of this pl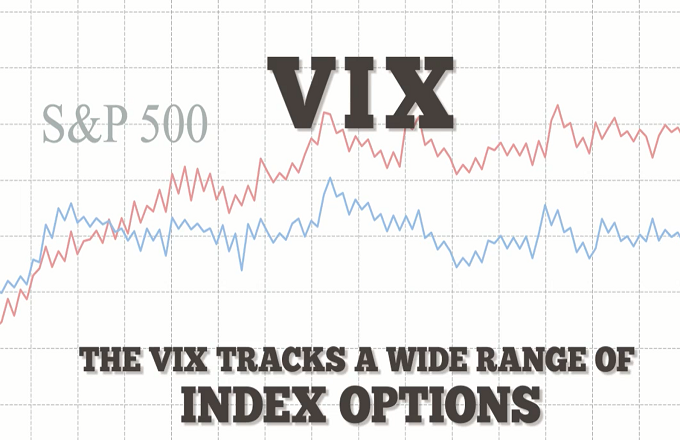 ay is other than the obvious lottery ticket event of a sharp jump in volatility in the S&P 500 Index.
I would normally read this type of article with the knowledge that this is probably a one-off kamikaze trader with more money than sense.
Maybe they are some massive hedge fund with a sophisticated trading algorithm or a family office that is hedging some other unforeseen risk.
The fact is that there are a lot of similar traders and investors that try to mimic these ai???one in a millionai??? shots all the time.Ai?? How do I know that?Ai?? There is $2.6 billion in just the top five volatility-linked ETFs and ETNs alone.
The iPath S&P 500 VIX Short-Term Futures ETN (VXX) is the largest and most well-known with $921 million under management.Ai?? That doesnai??i??t count the billions in individual futures contracts, leverage, and options strategies that mimic a similar result.
The returns of VXX over the last five years are -98.58%.Ai?? Barclays must continually reverse split the fund just to keep it from going to zero.Ai?? Yet, strangely, itai??i??s assets always seem to hover right around a billion dollars.Ai?? That means investors are continually throwing good money after bad to chase ai???the big oneai??? even as time, costs, and performance work against them.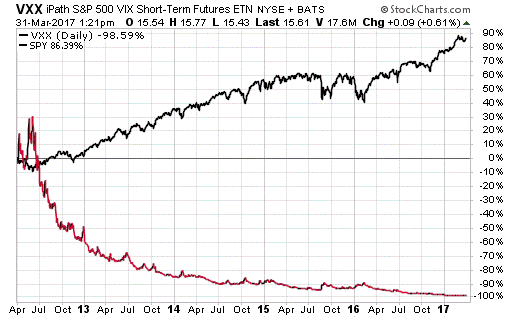 Imagine trying to time the next earthquake in California.Ai?? You know itai??i??s going to come.Ai?? Itai??i??s virtually a guaranteed certainty.Ai?? But can you stay solvent long enough to pick the exact day when it materializes?Ai?? The evidence says no.
Traders with a betting mentality love to wager on fear in the hopes that a huge surge will override the natural inclination of the market to weed out this emotion.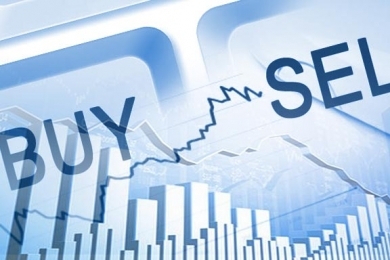 Even if the math works against them.Ai?? Every now and then you can get lucky by being in the right spot at the right time to make some money on a fund like VXX.Ai?? However, those events are outliers on the investment spectrum.Ai?? Not the type of consistent returns that it takes to compound your wealth over time.
The best investors think in terms of probabilities that give them the best opportunities for long-term success. Ai??Betting against the market via volatility futures, short positions, bear market funds, or other negatively correlated assets have always been a losing proposition for all but the most disciplined and short-term traders.
The odds say that most of us arenai??i??t fast enough or shrewd enough to make these types of trades worth the risk.
Until next time,
David Fabian
David Fabian is a Managing Partner at FMD Capital Management, a fee-only registered investment advisory firm specializing in exchange-traded funds. He has years of experience constructing actively managed growth and income portfolios using ETFs. David regularly contributes his views on wealth management in his company blog, podcasts, and special reports.Ai??
clomid no rx, clomid reviews.
The information contained within this article solely reflects the opinion and analysis about the performance of securities, investments and financial markets by the writer whose articles appear on this site. The views expressed by the writer are not necessarily the views of Weiss Educational Services, its affiliates or members of its management. While Weiss Educational Services and its affiliates accept editorial content from outside contributors, the content provided herein has not been independently verified for its accuracy. Nothing contained in this article is intended to constitute a recommendation or advice addressed to an individual investor or category of investors to purchase, sell or hold any security, or to take any action with respect to the prospective movement of the securities markets or to solicit the purchase or sale of any security. Information provided on the website is for educational purposes only. Any investment decisions must be made by the reader either individually or in consultation with his or her investment professional. Weiss Educational Services writers, its affiliates and staff may trade or hold positions in securities that are discussed in articles appearing on the website. Nothing on this website is intended to solicit business of any kind for a writer's business or fund. Weiss Educational Services, its affiliates, management and staff as well as contributing writers will not respond to emails or other communications requesting personalized investment advice. canadian pharmacy in dubai.