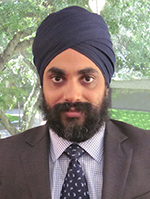 This market has a lot going for it: Earnings growth so far has been strong, global growth is re-emerging, and fiscal policy could (eventually) help.
Let's also not forget, there aren't many other investment options that offer high returns (including bonds, where yields are still near historic lows).
Markets are certainly reflecting all of that good news: The Dow 30 just notched 11 straight days of record highs. Yes, 11. So what's not to like?
Well, my experience tells me that when things seem too good to be true, that's exactly when you want to be wary.  In markets and in life, things are cyclical. Good times almost always come to an end.
I'm not suggesting we're entering a phase of prolonged downside. But I think for this market rally to remain healthy, we need to see normal market volatility, and yes, some downside.
Let's start with valuations.  Nearly every single valuation metric is above its historical average, in some cases by large amounts. The market's trailing P/E ratio, which takes into account actual earnings for the last 12 months, is at 24x. That's a 55% premium to its historic average.
Averages are just that, of course. You could have one hand in the freezer and another in a pot of boiling water, and on average, be just fine. And let's face it, you could have made the same argument about valuations a year ago, or even two years ago for that matter.
But earnings growth is cyclical. Even though we had strong 20% growth in EPS (or 10% on a blended basis) this quarter, and analysts are picking that to continue, that kind of growth can turn on a dime.
This chart using data from Standard Poor's proves it. You can see that stretches of strong growth don't last forever, and are usually followed by sharp downturns: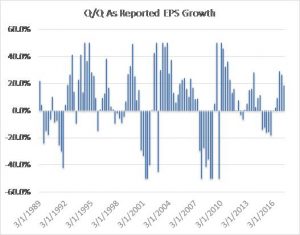 Data: Standard and Poor's
What's more, complacency is running high as stocks keep grinding higher, and the VIX is ultra-low, meaning hardly anyone is paying up for downside protection.  Time is also against us.
The market tends to experience a 10% pullback every year and a half. But we haven't seen one since the end of 2015 – meaning we're due.
So that brings me to my point: Why talk now about corrections and pull backs? I did some research about the potential for a "summer swoon" out of fear that maybe seasonality could help bring the market some grounding.
I found that we are nearing one of the worst time periods of the year, historically, to be in stocks: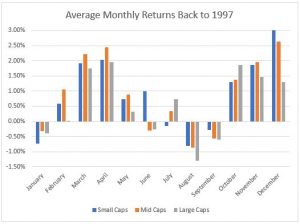 Bottom line: My research suggests that putting all we just talked about together, from extreme complacency to excessive valuations … and adding in the tougher historical period we're entering … could mean we're in for the perfect storm – and a bout with volatility.
That means stay on guard. Stick to stocks at the higher end of the Ratings Model grade scale, trim back speculative positions, raise cash, and wait for better opportunities to dive into new positions. Your patience could soon pay off.
Best,
Mandeep
Mandeep Rai has more than 15 years of investing experience, working as both a stock and credit analyst. At Weiss Ratings, he researches and evaluates financial and economic themes, and makes decisions on when to buy or sell specific shares for the Top Stocks Under $10 portfolio.