Already frustrated that the federal government taxes your Social Security? Well, unfortunately, if you live in one of the 13 states that taxes Social Security, your Social Security benefits will also be subject to tax at the state level as well. Hereai??i??s an overview for you: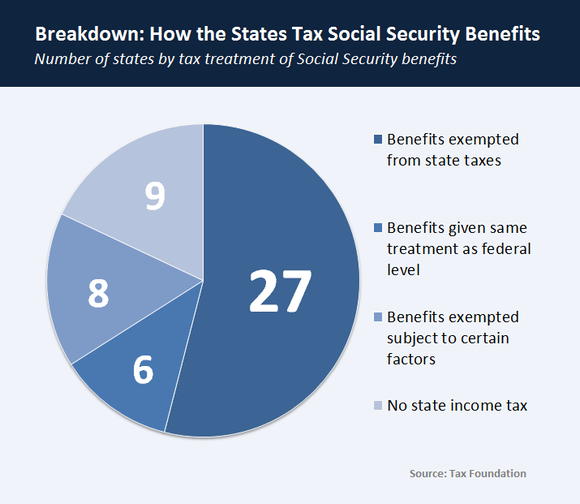 States broadly fall into four categories: (1) states that fully exempt Social Security benefits from their state income tax; (2) states that tax Social Security benefits the same way in which the federal government taxes them; (3) states that base benefit exemptions on certain factors such as age or income; and (4) states that do not tax income at all.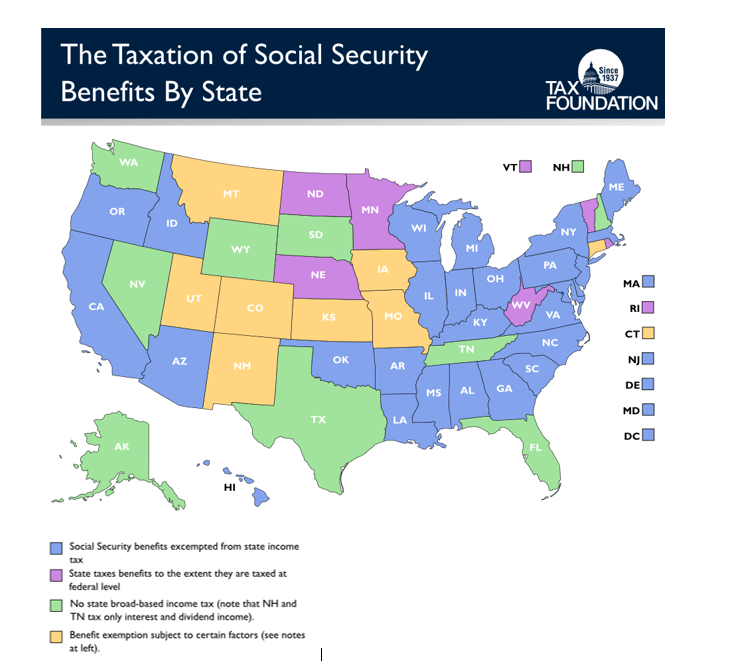 Twenty-seven states, plus D.C., fall in the first category (denoted in blue on the map above) and do not tax SocialAi??SecurityAi??income.Ai??At the time of this publication, IowaAi??will have been added to this list having completed a full-benefit exemption phase-in.
The second category, states that tax benefits in the same way that they are taxed at the federal level, includes six states (denoted by purple on the map).
Some states determine benefit exemptions based on other factors, such as income or age, or as a certain percentage of Social Security income (the third category above). These ai???otherai??? states, denoted in yellow, are outlined below:
ConnecticutAi??allows taxpayers to fully exempt Social Security income from state income tax if income is less than $60,000 (for joint filers).
KansasAi??exempts Social Security benefits from state income tax if federal adjusted gross income is if $75,000 or under.
MissouriAi??allows taxpayers with adjusted gross income of less than $100,000 (for joint filers) to deduct all of taxable Social Security benefits from income.
If aAi??ColoradoAi??household meets certain age requirements, qualifying retirement incomeAi??can be excluded from income if it is taxable under the federal income tax (itai??i??s called the ai???pension exclusionai??? and is subject to a maximum amount).
A similar program exists inUtah, but it is administered as a credit and is phased-out once income exceeds a certain level.
InAi??Montana, some Social Security benefits may be taxable, and the state advises taxpayers to fill out aAi??worksheetAi??to determine how the state taxable amount differs from the federally taxable amount. In general, if total income is below $32,000 for joint-filers, benefits will not be subject to tax.
InAi??New Mexico, benefits are taxable but a person can qualify for an exemption if he or she is 65 years or older
And finally, there are the nine remaining states that do not tax ordinary income and thus also do not tax Social Security income (these states are denoted by lime green on the map).
Unclaimed Social Security Benefits ai??i?? As Much As $120,000
Itai??i??s shocking, but true. Seven out of ten Americans are missing out on their full Social Security benefits.
This means after working hard all your life, and paying into Social Security for years, chances areai??i??youai??i??re not getting your fair share.
The average couple, for example, is leaving approximately $120,000 in lifetime retirement benefits on the table.
Just think of what you could do with $120,000!
Unfortunately, itai??i??s not surprising why this happens.
Social Security is complicated. With 2,728 rules and over 9,200 strategies ai??i?? most people donai??i??t know the best way to file for benefits. No wonder retirees are getting the short end of the stick!
That isai??i??until now.
Because weai??i??ve simplified Social Security – and outlined strategies to help you get every penny youai??i??re owed.
For a review of how Social Security benefits are taxed at the federal level and how to minimize those taxes, please read another one of our articles here.
Making the optimal Social Security claiming decision and maximizing your benefits is complicated. You should work with a Social Security advisor that is an expert in the myriad of strategies that are available to you or use one of the online tools that can help you.
Whether any of the strategies above are right for you requires careful analysis as each situation is different. If you would like to schedule a Free Initial Consultation with an advisor, you can do so by clicking here.
Until next time,
Matthew Allen
Matthew Allen is the Co-Founder/CEO of Social Security Advisors and creator of the new course Maximizing Your Social Security produced in conjunction with Weiss Educational Services. Matthew has helped thousands of seniors maximize their Social Security benefits and avoid costly mistakes when filing. Matthew has been at the forefront of financial services for over a decade. In addition to co-founding Social Security Advisors, Matthew also founded The Universal Group of Companies, a private investment firm, in 2004. From 2000 to 2004, Matthew was a NYSE Market Maker with LaBranche & Co., a Fortune 500 New York Stock Exchange firm.