Support and Resistance. You hear their names tossed around casually by traders and investors—but what do those terms really mean?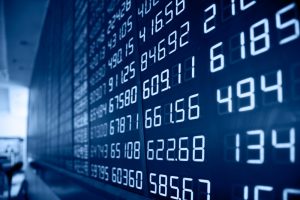 Truth is, this duo represents two of the most important dynamics you could ever learn about market analysis.
And, once you know how to spot them on a price chart, they will form the foundation for every trading and investing decision you make.
 What Are Support and Resistance?
To explain where support and resistance originate and how they work, I'm going to present a few quick questions and answers:
What two emotions run the financial markets (and, indeed, most of the rest of the world)? Greed and fear.
Can we see these emotions manifest on price charts? Yes, we can . . . in the form of support and resistance.
What do they look like? On a price chart of a stock, for example, we may see price support and/or resistance when the stock's price concentrates or clusters in a certain price zone or zones.  And when price concentrates in these zones over and over through time, we call these zones "key support" or "key resistance" zones.
Why is being able to recognize these support and resistance price zones important to you? Support zones are where buyers or bulls hang out, potentially ready to buy.  Resistance zones are where the sellers or bears lurk; potentially ready to sell, or even to sell the stock short (selling short means you sell the stock with the objective of buying it back at a lower price and profiting from the difference).
What Are the Advantages of Using Support & Resistance? 
If you currently don't consider support and resistance as decision-support tools, you will find that adding this skill-set to your knowledge base will yield higher profits and smaller losses.
Here is a short list of benefits that "Team Support and Resistance" provide:
Reveals where potential buyers and sellers are located (that's important!)
Offers you the best entry points for new positions
Gives you logical prices to implement risk management, such as placing protective stops or taking profits on a current position
Examples of How Support & Resistance Can Help You Profit
Support and resistance can appear on charts not only as price levels, or zones, but as trendlines and moving averages, as well.  And, if you'd like to move deeper into this study, you can investigate additional chart indicators such as Fibonacci retracement lines, Gann lines, pitchforks, and more.
For now, though, we're going to use three simple examples of how you can use support and resistance as simple but highly effective tools to increase your market gains:
Special Offers to Weiss Educational Readers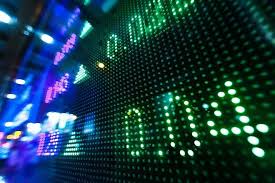 Trading and investing without knowing how to spot basic support and resistance levels can be like entering the market "in the dark."
As well, you may be missing out on exciting opportunities that could hand you dandy profits.
Change that now.  Let best-selling author and market expert, Toni Turner, show you how to easily use support and resistance signals to bring home bigger gains.
And here's good news. For Weiss customers only, Toni is offering her online training program, "How to Profit Using Support and Resistance" at a 20% discount.
Click here and use this discount code at checkout: WEISS20
 This is a limited-time offer, so don't delay!
Example One: Price as Support and Resistance
Our first example shows a daily chart of Exxon Mobil Corp (XOM), captured on April 4th, midday.   On the left side of the chart, you can see that from August to December, Exxon formed price resistance in a zone of ~ $88 to $89. Price tried to rise through that level several times, but each time, the bears were stronger than the bulls, and sellers swatted it lower.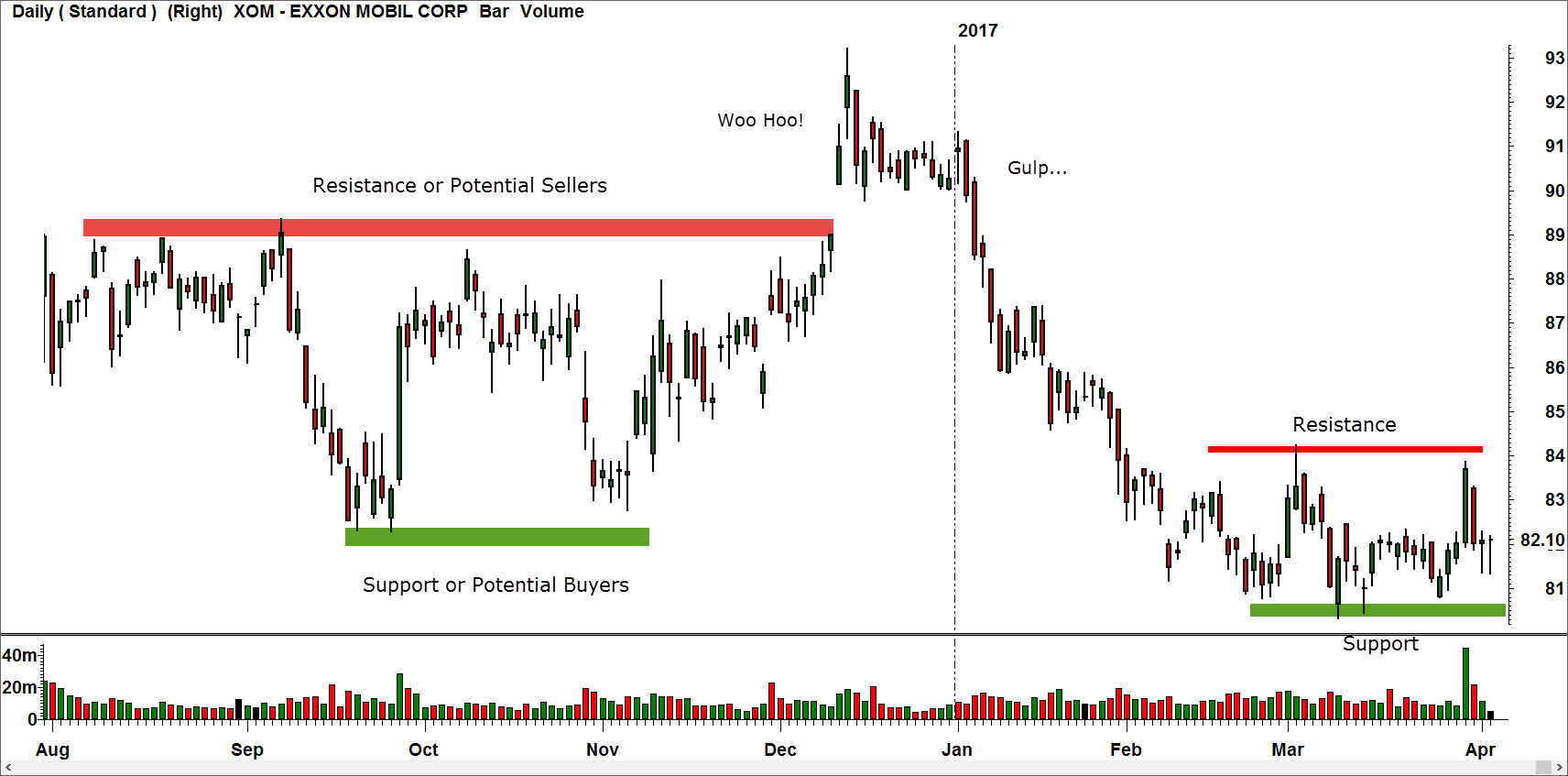 Chart Courtesy RealTick®
During September, price fell to $82.30, and then bounced, forming potential price support at that level, as buyers came in for several days each time price came close to touching it again.
Buyers came in big-time on September 28 (tall green candle), and shot Exxon back toward prior resistance. After dawdling there at $87 – $88, Exxon fell again toward the end of October. But this time, bulls knew where support should be—and sure enough price held at that support at $82.50 to $83.
This support held nicely into the first of November.  Exxon buyers who knew how to spot support on a chart could have bought shares just as price started higher, and placed a protective stop beneath the support level.  That strategy netted some sweet profits—especially when Exxon pierced its prior resistance level and shot up to $93.
Currently, Exxon is consolidating (moving in a tight range) between ~$80.50 and $84. So far, this potential "base" has provided buyers who have held Exxon aloft—but also has invited enough bears in to sell enough shares to hold the lid on this zone.
Traders/investors who are monitoring Exxon for a break to the upside will continue to watch until or if the energy behemoth rallies out of its base and will use a protective stop at $80 or higher to manage risk.  Of course, should Exxon break lower, and stumble beneath $80, it's time to exit.
I could discuss this chart for another two or three paragraphs, but for now, you have a good idea of how being able to evaluate support and resistance levels can help you make buying decision and place stops.
Example Two: Trend Lines as Support and Resistance
Our next example shows how you can use trend line support as a decision support tool. The daily chart of Advanced Micro Devices Inc.
(AMD) shows how the stock took off in November of 2016, broke above its former price resistance created in August (far left side of chart) at about $7.50, and began to trend higher. When it made a higher low in January (definition of uptrend: higher highs and higher lows), it gave us a point to connect the lows and then extend the line higher.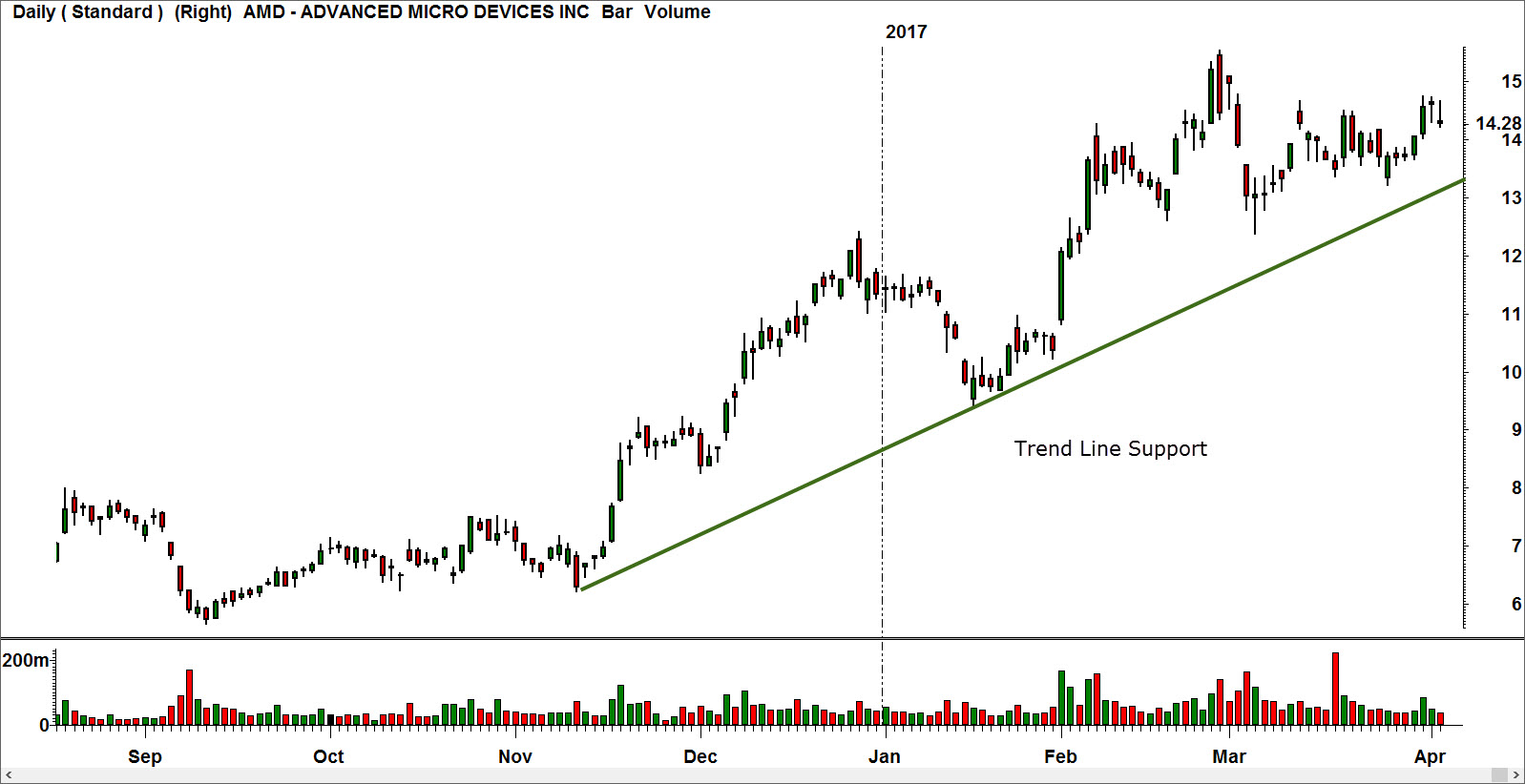 Chart Courtesy RealTick®
Some traders use this uptrend line as a valid money management tool, thinking, as long as AMD remains above this trend line, I am in the trade.  Should it close below this line, I will take profits.
Example Three:  Moving Averages as Support and Resistance
In our third example, we will use one of the most popular moving averages, the 50-day (simple) moving average, as a support and resistance decision-support tool.
Moving averages are lines that connect closing prices of an asset over a given time frame. They can act as excellent indicators of price strength or weakness. For example, if price is trading above its moving average, then the average can act as support. If price is trading below its moving average, that line can act as resistance.
The 50-day MA is considered to be an intermediate trend tool by many market participants, including institutional traders, such as portfolio managers and fund managers. That's why you might see a popular or large-cap stock dip down to its 50-day MA, then bounce off of it, using it like a "trampoline."
In our example of the daily chart of the Monsanto Co. (MON), note how price was trading below its 50-day MA in the last quarter of 2016. In November, it dipped to a low of $97.35, then bounced and jumped handily above its 50-day line and at the same time flew above October highs at about the same price of $104.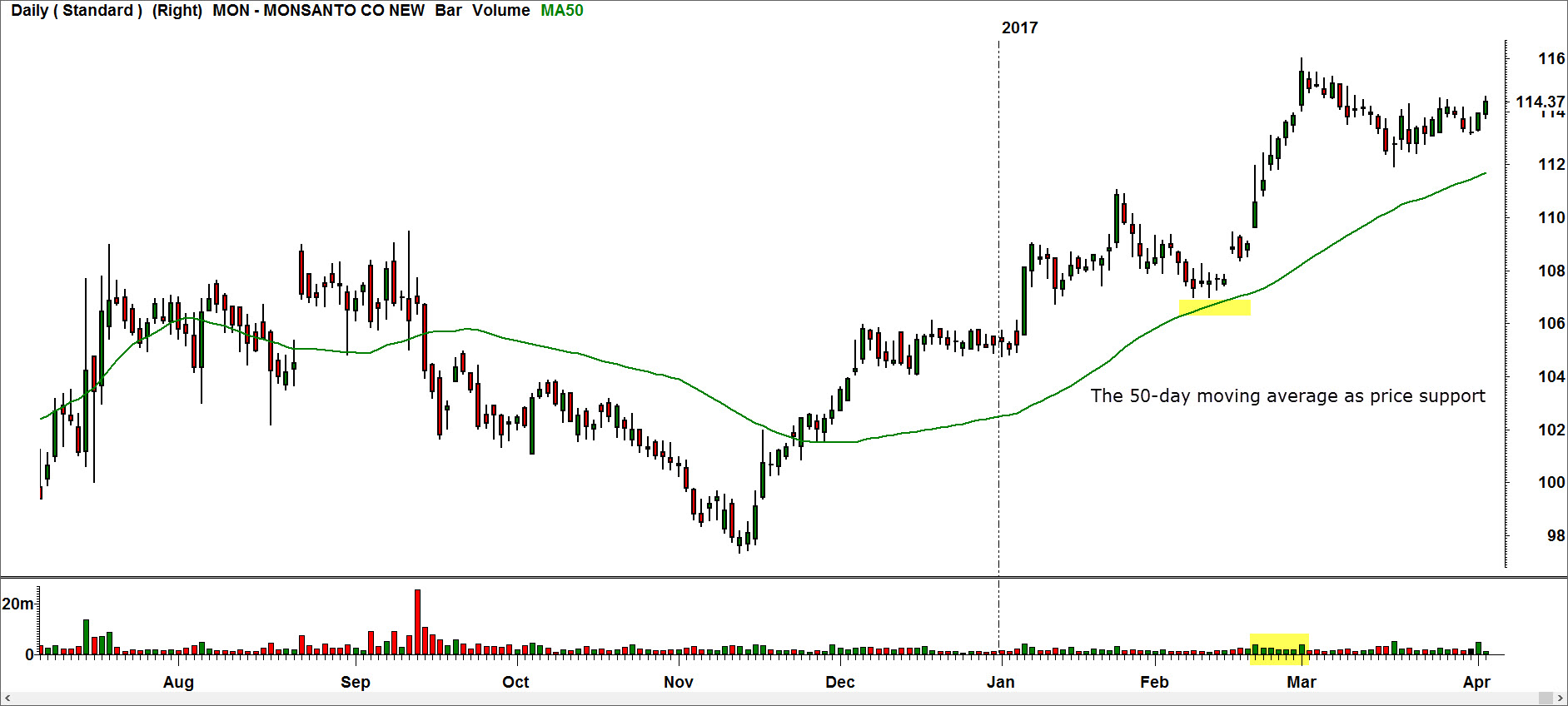 Chart Courtesy RealTick®
The agricultural products producer went on to etch a neat uptrend on its chart into 2017, making a relative new high on Jan. 25 at $111, and then dipping down to its 50-day MA and using that line as support.  Sure enough, the buyers came in and Monsanto bounced off the 50-day support line, using it for a "trampoline" and rocketing higher on strong volume. To date, Monsanto still trades above that line.
Many traders and investors use the 50-day moving average as a buy/sell signal:  They buy when price moves above or bounces off of the 50-day moving average to the upside. They sell when price falls and closes below that line.
I trust this discussion has shown you how you can use support and resistance to help you make smarter and more profitable trading and investing decisions.  If you'd like to explore more ways this "dynamic due" can help you minimize your losses and maximize your gains, see the announcement below.
Keep green on your screen!
Toni Turner
Toni Turner is the President of TrendStar Group, LLC, is an accomplished technical analyst as well as a popular educator and sought-after speaker in the financial arena.
She is also the author of best-selling books: A Beginner's Guide to Short-Term Trading, Short-Term Trading in the New Stock Market and Invest to Win: Earn and Keep Profits Bull and Bear Markets With the GainsMaster Approach, co-authored with Gordon Scott, CMT.