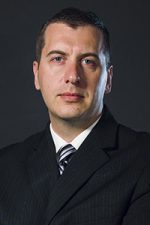 Last week I talked about declining number of banks and how this downward pattern may leave us with fewer options to choose from.
But our latest round of ratings gives us some encouraging news suggesting that those available options might be safer than ever before.
The data shows that over a quarter (26.7%) of U.S. banks are recommended, rated "B+" or higher by Weiss.
This percentage has been on a steady rise since a five-year low point of 11.9% in Q1 2012. The number rose 0.6% since the prior quarter and 1.2% since one year ago.
Even with fewer banks to choose from, the industry has been improving its recommended ratings over the last five years.
The reduction in numbers and still tighter regulation can be a good thing for financial institutions as it consolidates and can help build strength.
The financial regulatory reform on the horizon can be beneficial but only with responsible and cautious industry leadership.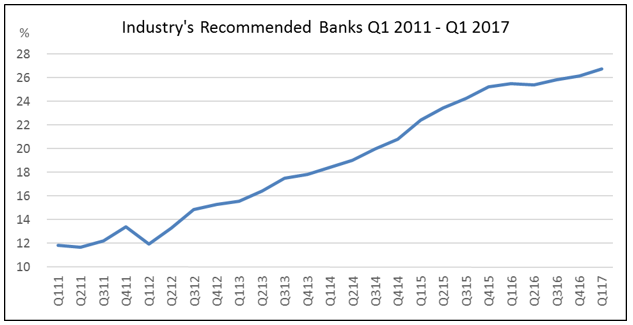 Below is the break-down of the bank safety ratings based on Q1 2017 call report filings (financial and other data filed with the FDIC each quarter).
As you can see, more than half of banks (51.1%) are rated "B", 13% are on the elite "A" list, 27.1% sit right in the middle with a "C" rating", and only 8.8% are considered "weak" or "very weak" with a "D" or "E" rating.
The overall distribution of our ratings suggests that the banking industry is doing well and that only a small percentage of banks could be in trouble.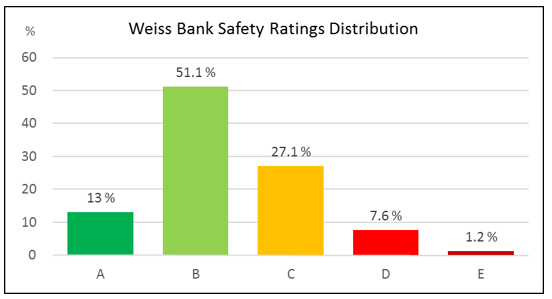 On the state level, Texas is home to most recommended banks with 162 institutions rated "B+" or higher domiciled there.
Keep in mind that the domicile state only tells us where the bank is headquartered. It could be domiciled in one state but have branches in a number if not all fifty states.
Iowa comes in as the second best state with 129 banks domiciled there and Illinois – third with 85.
10 States with Most Recommended Banks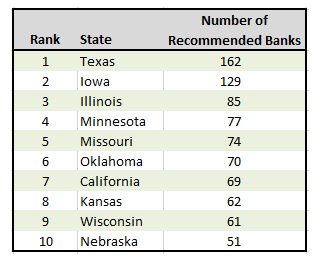 We also made it easy for you to find recommended banks in your state. Simply visit "Recommended Banks by State" list on our website, select your state and click "View" to see all "B+" or higher rated banks doing business near you.
Once you find what you're looking for, be sure to add it to your Watchlist so we can keep you up to date with rating changes.
Think safety,
Remi Lukosiunas
Remi Lukosiunas, a Financial Analyst, joined Weiss Ratings in 2014 with a financial services background in internal audit and the credit union industry. Remi conducts banking, credit union, insurance and investment research. He has also written extensively on stocks and investing using ratings as a guide. Remi is a graduate of Florida State University with a degree in multinational business.