In my last article, How to Create Your Own Tax Break I spoke about how you can create your own tax break to help accelerate your retirement savings.
I hope that you were able to take advantage of that advice, or plan to takeAi??itAi??by Monday April 18th. Now the question is: Whatai??i??s the best way to go about investing your retirement nest egg?
My answer: Donai??i??t rely on Wall Streetai??i??s advice…because youai??i??re better off being a do-it-yourself investor!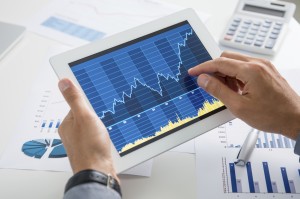 Just be aware of a few sobering facts about investor behavior:
Fact #1: The S&P 500 returned an annualized 8.2% for the 20 years ended 2012. Meanwhile, the average investor in U.S. stock funds achieved an annualized gain of only about HALF as much, or 4.3%, according to a recent DALBAR study.
Individual investors in bond mutual funds had an even worse performance.
Fact #2: In the 10-years ended Dec. 2013, the Barclayai??i??s Aggregate U.S. Bond Index gained 4.88%, while the average fixed income fund investor earned just 0.6%!
Why such a huge disparity in performance between what the markets return and what the average investor experiences?
Itai??i??s because all too often we are our own worst enemy. Our emotions get the best of us as we try to jump in and out of markets ai??i?? often at just the wrong time ai??i?? an ill-advised attempt to catch rallies and avoid declines.
Want even more proof? Just look at the dismal results of active mutual fund managers.
Fact #3: Only 20 to 30 percent of mutual fund managers outperform their benchmark in any given year, according to data from Morningstar and Vanguard. And just 1-in-10 of those mangers can continue to outperform for three years ai??i?? in other words, just 3% of all fund managers.
How to Secure a Prosperous Retirement
Weissai??i?? Retirement Savings and Investment Expert Mike Burnick shares his proven retirement savings strategies that will help you supercharge your retirement savings, keep more of what you earn, and protect yourself from the Wall Street wolves and financial pickpockets so you can retire on YOUR terms.
In three jam-packed online sessions youai??i??ll get powerful wealth building tools and Mikeai??i??s personal blueprint for securing your familyai??i??s financial future including:
A quick and easy 3-step method for jumpstarting your retirement savings
How to maximize your social security benefits
A tax-smart strategy for withdrawing money from your retirement accounts that will help reduce your tax bill so you keep more of your money
How easy it can be to play catch-up if you started saving late
How to sidestep the most common retirement savings trapai??i??and six more to avoid to keep your retirement savings plan on the fast track.
And much more!
Internal Sponsorship
Fact #4: Over five years, the odds of your fund manager beating the market plunge to order paroxetine, clomid online. 1 in 33 ai??i?? thatai??i??s not much better than the odds of winning at roulette.
So why do supposedly rational professional investors under perform their benchmarks so often? A big part of it is the hefty fees they charge. The typical actively-managed stock mutual fund levies hefty fees of 1-to-1.5% annually. Thatai??i??s a difficult hurdle to overcome in any one year, let alone when you compound how much those fees cost you over 3 or 5 or 10 years.
But aside from Wall Streetai??i??s high fees, thereai??i??s another more irrational explanation: the behavioral bias weai??i??re all subject to– individual and professional investors alike.
Remember, weai??i??re only human.
For over two hundred years, since Adam Smith penned the Wealth of Nations in 1776, economics and by extension investment management has been based on the theory of rational expectations.
The theory is that economic decisions are driven by rational decision making: That we all make perfectly logical, well-reasoned decisions about our money.
Unfortunately, nothing could be further from the truth.
Financial markets, and indeed the entire global economy, is made up of individuals, flawed in our decision making and sometimes outright irrational about our investment choices.
So how in the world can the collective decisions of irrational human being create perfectly rational markets? Good question.
And in recent years, the relatively new field of behavioral finance has done a lot to answer provide answers. And in the process it is busting the myth of efficient and rational financial markets.
One excellent book on the subject is: Your Money and Your Brain, by Wall Street Journal columnist Jason Zweig. This book should be required reading for every investor. Zweig explores what happens inside our brains when we think about money and investing.
Spoiler alert: flawed decision making can get you in trouble more often than you think. And sometimes it can be downright dangerous to your financial health.
ai???To thine own self be trueai??? is perhaps the best advice for every investor to take to heart. Know yourself and be aware of how your own emotional bias can cloud your investment decision making.
Being disciplined as an investor isnai??i??t always easy, but keep it simple ai??i?? at least with your retirement money. Have a plan with an appropriate asset mix, and rebalance it on a regular basis and over time you can generate serious wealth, while avoiding the emotional stress of trying to time the markets.
Good investing,
Mike Burnick
Mike Burnick is the Instructor of theAi??Planning for a Prosperous RetirementAi??course.Ai?? Mike brings a wide range of experience in the financial services industry, with over 25 years of professional investment experience.Ai?? He was a Registered Investment Adviser and portfolio manager responsible for the day-to-day operations of a mutual fund.Ai??Mike joined Weiss Research in 2002 as an analyst and writer and in 2008 was named Director of Research and Client Communications at Weiss Capital Management, where he assisted managing the day-to-day asset allocation and trading responsibilities for a $5 million ETF strategy.