The first couple weeks of the Donald Trump administration have been a whirlwind, with executive orders flying off his desk and key cabinet appointments being locked down.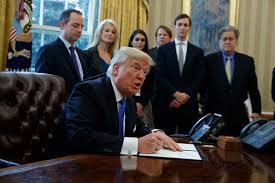 The flurry of activity isnai??i??t without controversy ai??i?? in Washington and around the world.
But as a financial analyst, itai??i??s my job to try to block all that noise out and focus on the investment implications of Trumpai??i??s moves.
And the way I see it, three of his ai???America Firstai??? policies could push U.S. economic growth ai??i?? and interest rates ai??i?? higher over the next several months.
ai???America Firstai??? Policy #1: Repealing/Replacing of Obamacare
Ai??Many U.S. companies have had to hire additional workers ai??i?? and incur higher external accounting expenses ai??i?? to handle the increased and more complicated compliance regulations on company health insurance plans that came with Obamacare.
These companies are among the largest job creators in the country historically … but the extra taxes, fees, and noncompliance penalties theyai??i??ve incurred have restrained growth in the economy and employment, not to mention put significant pressure on profits.
Now that Trump is leading a process to repeal/replace Obamacare, you could see a significant boost in growth across all types of businesses. That, in turn, is bullish for the economy and stock prices … and bearish for bonds.
Donald Trump is About to Send TRILLIONS of
Dollars This Industryai??i??s Way …
Donald J. Trump officially took the oath of office. One of his first acts as the 45th president of the United States will be to unleash the biggest boom in defense spending this country has ever seen!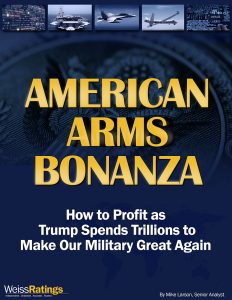 More ships. More plans. More tanks. More troops. More cyberwarfare and counterterrorism programs. Itai??i??s all coming, and itai??i??s going to be a trillion-dollar windfall for the defense and cybersecurity companies that help keep America safe.
Which stocks will soar as a result? How can you grab your share of the profits? Get my just-released special report American Arms Bonanza to find out by clicking here
ai???America Firstai??? Policy #2: Drastically reducing business regulations
Ai??On Monday, January 21, 2017, during Trumpai??i??s first day of work as President, he met with representatives of many of the largest companies in the world. At that meeting, he vowed that he would ai???cut business regulations by 75%.
Now you and I both know thatai??i??s a very bold claim. But even if Trumpai??i??s policies ultimately end up cutting existing business regulations by only 30% or 40%, that would provide business capital to hire more workers, expand growth, and generate greater profits for shareholders.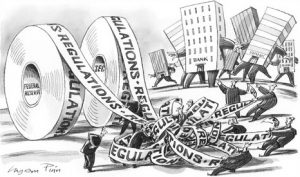 After all, excessive regulations have collectively cost companies billions of dollars each year.
So the lifting of that financial burden could give GDP growth another shot in the arm … and pressure bond prices lower. That, of course, means interest rates will head higher.
ai???America Firstai??? Policy #3: Reducing corporate income tax rates
Ai??Corporate income taxes take a huge chunk out of the cash flow and profits of American companies. But Trump is promising to lower corporate tax rates. Heai??i??s also talking about incentivizing companies to keep their operations in the U.S., and hire U.S. citizens.
As a result, I expect to see companies reinvest their tax savings to hire more (and better-trained) employees, improve their infrastructure and technology use, and capture greater market share. All of that is another reason to expect lower bond prices, and higher interest rates, over time.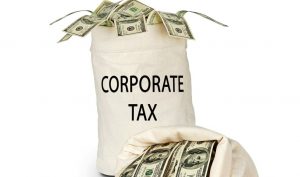 Bottom line: U.S. 10-year Treasury yields have already risen around 70 basis points since Trump got elected. But if growth continues to accelerate and Trumpai??i??s policies take hold, we could be talking about yields of 3.5% rather than 2.5% before long.
So plan accordingly by avoiding investments vulnerable to rising rates (long-term bond funds, utilities, REITs, etc.) and targeting investments that benefit from them (financial stocks, cyclicals, etc.).
Until next time,
Mike Larson
Mike Larson is a Senior Analyst for Weiss Research, and is also the creatorAi??of the courseAi??"How to Profit From Rising Interest Rates". A graduate of Boston University, Mike Larson formerly worked at Bankrate.com and Bloomberg News, and is regularly featured on CNBC, CNN, Fox Business News and Bloomberg Television as well as many national radio programs. Due to the astonishing accuracy of his forecasts and warnings, Mike Larson is often quoted by the Washington Post, Chicago Tribune, Associated Press, Reuters, CNNMoney and many others.