U.S. student debt has just reached record highs.
According to the Federal Reserve Bank of New York, U.S. student debt in 2016 totaled $1.31 trillion.Ai??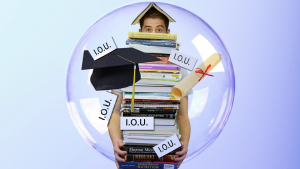 This is the 18th year in a row student debt has climbed higher.Ai?? Since 2008 student debt has skyrocketed 105 percent.
In light of these alarming statistics, here are 9 steps you or the student in your life can take now to curb the accumulation of student loan debt:
Scholarships & Grants. Intense studying, earning excellent grades and excelling in extra-curricular activities while in high schoolAi??can increase a studentai??i??s chance for receiving college scholarships and grants.Ai?? Many available scholarships and grants can be found at https://studentaid.ed.gov/sa/types/grants-scholarships and http://www.collegescholarships.org/
Dual enrollment.Ai?? While in high school aim to enroll in college level courses at a local community college, this will enable students to fulfill both high school and college requirements.Ai?? Nearly 80 percent of high schools offer these type of programs.Ai?? Dual enrollment courses are usually cheaper and sometimes FREE.
Advanced Placement (AP) credits and Advanced Placement exams.Ai?? When students successfully complete AP course work and the related exams they can save on college costs.Ai?? These courses can save students and their families thousands of dollars.Ai?? Mastering AP classes while in high school can even help students place out of a collegeai??i??s general education requirements, completely skipping the added expense of taking these classes in college.Ai?? According to AP, which is sponsored by the College Board, currently more than 90 percent of colleges and universities nationwide offer college credit, advanced placement, or both for qualifying AP Exam scores.
The $100 Trump Retirement Roadmap
Now that he's officially taken office, dozens of tiny firms could skyrocket by 100%, 300% and even 721%.
This is your chance to turn a small stake of $100… into a life-changing fortune.
Click here to find out how baclofen online, purchase zithromax.
External Sponsorship
Attend an in-state college or university.Ai?? To really cut down on tuition costs, consider enrolling in a school in your home state.Ai?? Tuition costs for in-state students are usually significantly less.
sildenafil pharmacy in cyprus.
Commute. Consider enrolling in a local college or university within driving distance from home.Ai?? This will save considerable costs where room & board are concerned.
Community college, first. Instead of enrolling in a four-year college in freshman year, attend a community college for the first two years.Ai?? During these two years, complete the general education classes that all colleges and universities require.Ai?? Once completed, then transfer those credits to a four-year college of your choice.
Important: make certain that the 4-year school of your choice will accept all of your general education credits earned at the community college.
Graduate on time or ahead of schedule. Aim to only enroll in classes that will contribute to your major and minor requirements.Ai?? Try to take classes that will help you graduate on time.Ai?? Unrelated classes are an added expense and will delay your time in school.
During your freshman and sophomore year aim to only take your general education classes.Ai?? Then in your junior and senior years fully concentrate on your major/minor classes.Ai??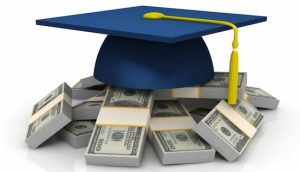 By then youai??i??ll have a better idea as to what you want to major in and will minimize money and time spent on less relevant classes.
Another way to ensure you at least graduate on time is to go to school year round.Ai?? In all, do not take summers off. Aim to study over summer school and even consider adding online courses.
Earn income in college. Find employment while in school via a work-study program, to help supplement tuition fees. For more information, please visit: https://studentaid.ed.gov/sa/types/work-study.
Attend a trade school.Ai?? If college is not the route to take for your chosen career, then consider enrolling in a trade school.Ai?? Trade schools allow student to learn their needed professional skills in two years or less.
Best wishes,
Amber
Ms. Dakar is the author of The Busy Personai??i??s Guide to Personal Finance, a primer to help consumers manage their finances so they can build a substantial nest-egg. She also conducts personal finance seminars where she provides concepts to attain overall financial health.