Have you ever heard of Marty Zweig? If not, he's a famous money manager and author of the classic investing book Winning on Wall Street. Zweig passed away a few years ago, but one of his trademark sayings lives on: "Don't fight the Fed!"
The idea is that since the Federal Reserve controls monetary policy, it has the ability to crush the markets by raising interest rates.
If you try to go against it, and buy interest-sensitive investments when it hikes, you might as well just feed hundred-dollar bills into a shredder.
But a funny thing is happening right now, and has been since policymakers started hiking in December 2015. The markets have fought the Fed every step of the way!
Take a look at this table I put together. It shows the performance of several major ETFs, representing a wide variety of sectors and asset classes. I started the total return clock on 12/16/2015 – the day of the first Fed hike.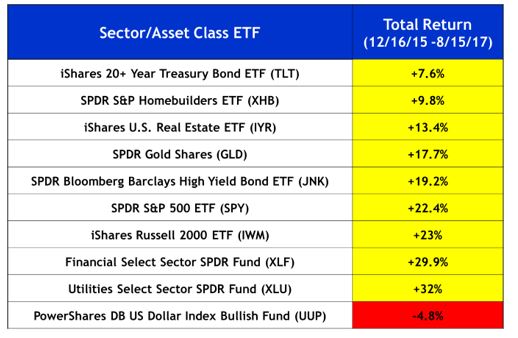 What you'll notice right away is that nine out of these 10 ETFs are showing positive returns – and not just a few percentage points' worth. The biggest laggard, the (TLT, Rated "C"), has generated total returns (including dividends) of about 7.6%.
The leading ETF, the Utilities Select Sector SPDR Fund (XLU, Rated "B"), is up 32%. That's crushing the SPDR S&P 500 ETF (SPY, Rated "B") by ten percentage points.
Meanwhile, a bond ETF called the SPDR Bloomberg Barclays High Yield Bond ETF (JNK, Rated "B-") is performing almost as well as the S&P at +19.2%.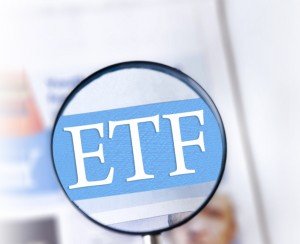 ETFs targeting housing and commercial property are also hanging in there, with the SPDR S&P Homebuilders ETF (XHB, Rated "B") up 9.8% and the iShares U.S. Real Estate ETF (IYR, Rated "B-") up 13.4%.
Even the SPDR Gold Shares (GLD, Rated "C-") is up 17.7%.
In fairness, SOMETHING is losing ground in this Fed cycle. But it's the PowerShares DB US Dollar Index Bullish Fund (UUP, Rated "C-")! The ETF tracks the performance of the greenback against a basket of foreign currencies.
So what's going on? Why are risky bonds, home builders, REITs, gold, and utilities rising … and the dollar falling … despite the Fed's four hikes to date and promises of more to come? Isn't that exactly the opposite of what "should" happen?
Well, too many pundits have no real grasp of Fed policy. They just blindly utter the "Don't Fight the Fed" mantra, without understanding the nuances and intricacies of the interest rate markets.
Me? I've spent the better part of two decades following them closely. I can say categorically that Fed moves impact different markets in different ways at different phases of the rate-hiking cycle.
If you just try to short bonds willy-nilly, or dump all your higher-yielding stocks at the first hint of a rate hike, you're going to do yourself a disservice.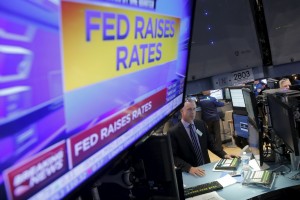 That's why I didn't recommend dumping everything when the Fed first hiked in December 2015, or in the wake of its subsequent moves.
It's also why I spent months putting together my landmark educational course How to Pile Up Profits from the Greatest Interest Rate Cycle in 5,000 Years.
You won't believe how much misinformation and misunderstanding there is out there about how rate hikes work, and how they impact various markets.
My goal in the course is to help you Fight the Fed — in an appropriate way and with the right weapons. If you're interested in getting started, just click here.
And always remember this: Investing success is never as simple as following a slogan or blindly adhering to dogma. You have to know the reasons and nuances behind market aphorisms, even those as famous as Zweig's!
Until next time,
Mike Larson
Mike Larson is a Senior Analyst for Weiss Ratings, and is also the creator of the course "How to Pile Up Profits from the Greatest Interest Rate Cycle in 5,000 Years". A graduate of Boston University, Mike Larson formerly worked at Bankrate.com and Bloomberg News, and is regularly featured on CNBC, CNN, Fox Business News and Bloomberg Television as well as many national radio programs. Due to the astonishing accuracy of his forecasts and warnings, Mike Larson is often quoted by the Washington Post, Chicago Tribune, Associated Press, Reuters, CNNMoney and many others.