More surprising than the powerful rally stocks have enjoyed since Trump was elected, has been the incredible contraction in volatility.
While the broad market, as measured by the S&P 500 Index (SPX),Ai??has climbed some 11.2% since November 8th, the VIX, which measures volatility has declined by 42% and now sits at decade lows.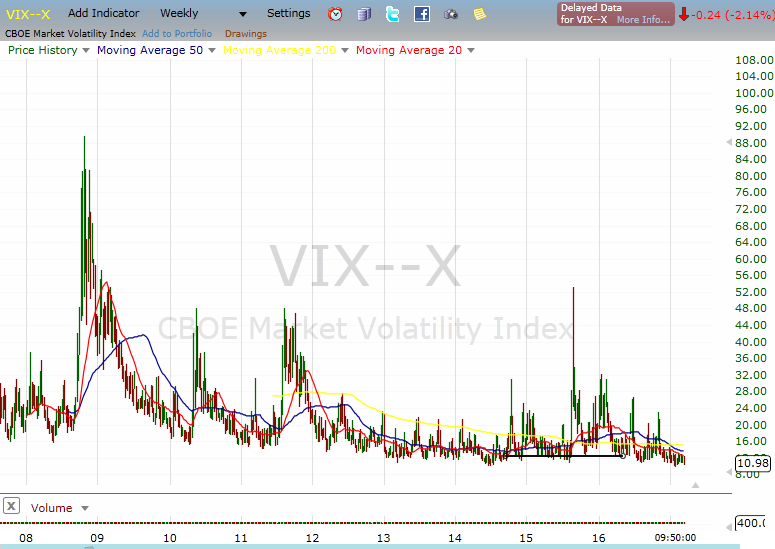 Remember, Trump was supposed to bring chaos, controversy and uncertainty (all synonyms for volatility) and indeed those are all occurring in the public and political arena.Ai?? So why is the stock market ignoring or not registering such concerns?
The S&P 500 Index has also gone its longest period, now 272 days and counting, without a 5% pullback.
Historically over the past 20 years the S&P 500 has typically experienced an average of four corrections of 5%Ai?? or more per year.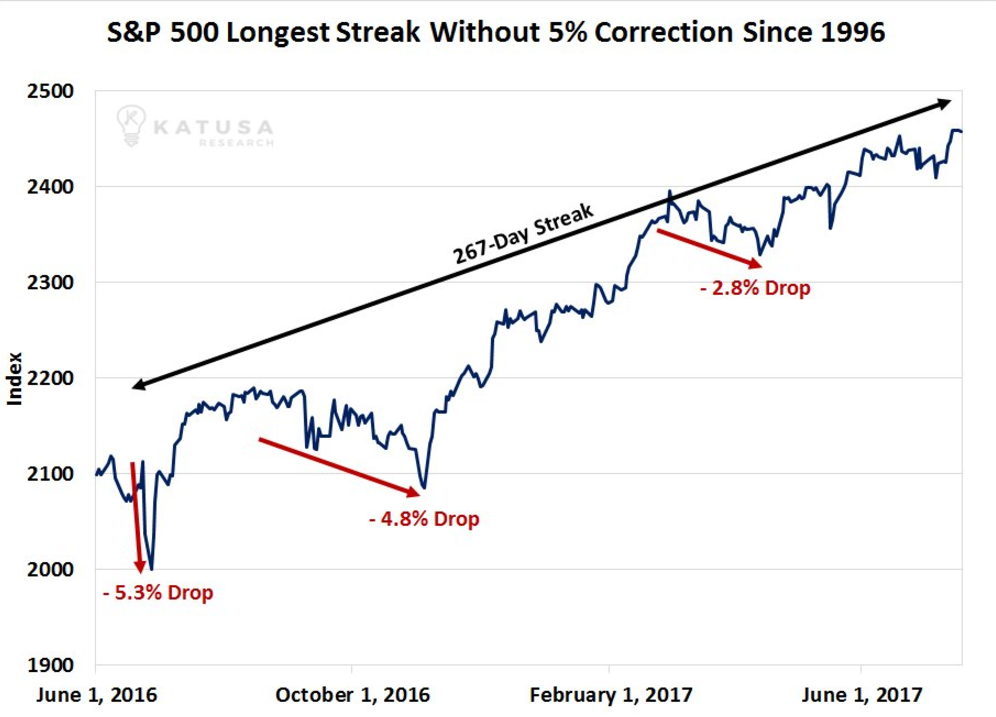 And itai??i??s not just day to day and week to week volatility which has been suppressed; intradayai??i??that is the trading range within any given day has shrunk to the narrowest range in decades.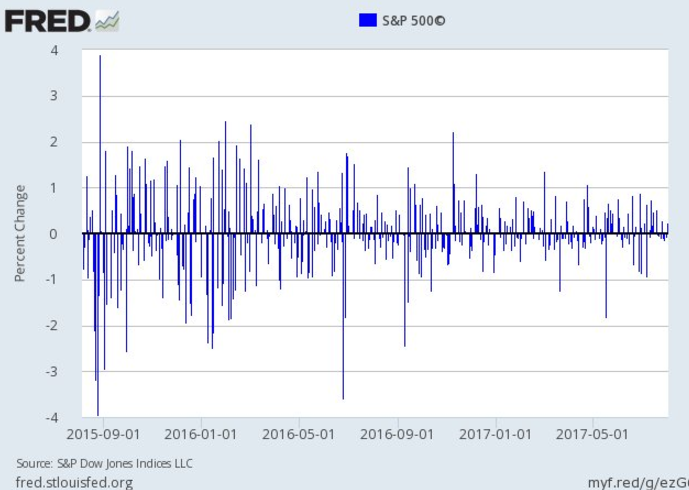 Correlation Collapse: Following the election there was massive rotation among sectors and stocks as money were reallocated. So, while underlying components have moved, the overall index has remained relatively calm as winners offset losers.
This is known as dispersion and comes when there is a lack of correlation among the individual issues.
As you can correlation has collapsed since the election.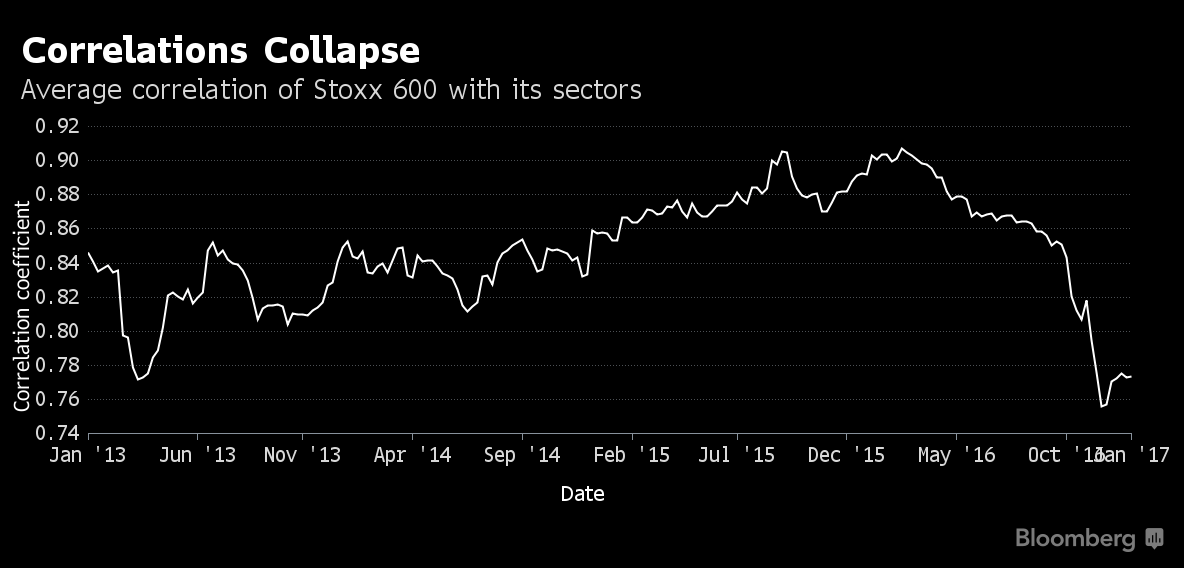 No Puts Needed: Secondly, overly optimism and bullish investors have not felt an urgency to buy up portfolio protection in the form of put options.Ai?? This is typically a large driver of implied volatility levels.
ETFs and Machines:Ai?? The rise of passive investing and use of exchange traded funds combined with machine driven trading means there is less active decision making done on a day to day basis.Ai?? People tend to make their allocations and walk away. Most based machines respond to the same news meaning there is a uniformity action.
The result is not only so we have had less day-to day volatility ai??i?? remember implied volatility and the VIX tend to measure changes in price from one to the next –and as of March 17 the S&P 500 has not has a 1% or more change in over 107 days.Ai?? Thatai??i??s the longest period. Ever.
But also there is less intraday swings as the market tends to open, find a price early and then sit.Ai?? This is reflected in the narrowing of the Average True Range which has also sunk to historically baseline lows.

What now? Ai??Itai??i??s seemsAi??pretty safe to say that volatility has nowhere to go but up. The question is when? And how would you position for such an inevitability?
One thing you donai??i??t want to do is buy the iPath Short Term S&P 500 Volatility (VXX) as due to the drag of cantango has inexorable path downwards.Ai?? This volatility based ETF has declined some whopping 99% since its inception and had basically been in a straight line down since the election losing some 37% year to date.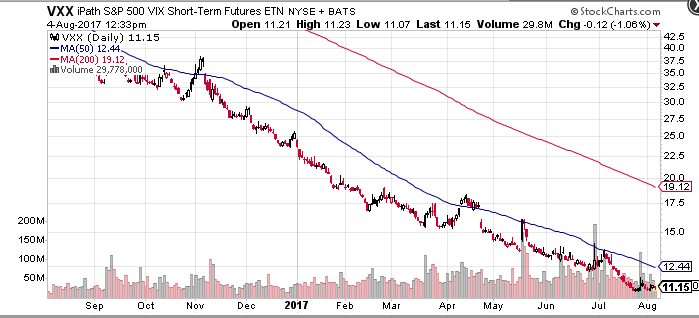 So while your waiting for things to pick up this products value is just wasting away.
Instead Iai??i??d look at establishing some type of back spreadAi??in the SPY going out at least three months in time.Ai?? This give enough time for this low volatility environment to last much longer than anyone expected.
Kind Regards,
Steve Smith
Steve Smith is an expert options trader with 25 years experience in the markets. Steve was a seat-holder of the Chicago Board of Trade (CBOT) and the Chicago Board Option Exchange (CBOE) from 1989 ai??i?? 1997. Steve is currently the editor of The Option Specialist and runs the 20K Portfolio Program which provides all types of options trades for all types of traders.
*Editorial Contributors' Disclaimer
buy periactin, generic lioresal.
The information contained within this article solely reflects the opinion and analysis about the performance of securities, investments and financial markets by the writer whose articles appear on this site. The views expressed by the writer are not necessarily the views of Weiss Educational Services, its affiliates or members of its management. While Weiss Educational Services and its affiliates accept editorial content from outside contributors, the content provided herein has not been independently verified for its accuracy. Nothing contained in this article is intended to constitute a recommendation or advice addressed to an individual investor or category of investors to purchase, sell or hold any security, or to take any action with respect to the prospective movement of the securities markets or to solicit the purchase or sale of any security. Information provided on the website is for educational purposes only. Any investment decisions must be made by the reader either individually or in consultation with his or her investment professional. Weiss Educational Services writers, its affiliates and staff may trade or hold positions in securities that are discussed in articles appearing on the website. Nothing on this website is intended to solicit business of any kind for a writer's business or fund. Weiss Educational Services, its affiliates, management and staff as well as contributing writers will not respond to emails or other communications requesting personalized investment advice.