As we slog through the dog days of summer—and as a Floridian, I count myself as an expert in hot, sultry dog days and brash thunderstorms—I'm usually not surprised when the market acts as cranky as the weather.
Market seasonality (yes, the market experiences "seasons") tells us that August and September are known for market volatility.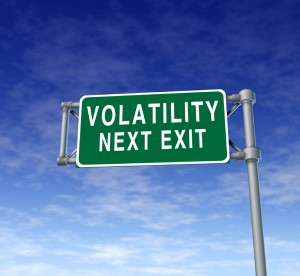 Just so, I usually become more defensive this time of year, raising a little cash and moving into defensive plays until the market smooths out in November. (November, December and January are the seasonally the three best trading months of the year.)
And since we're talking about seasonality and defensive plays, this is the perfect time to segue to gold.
Let's look at gold and gold miners' seasonality tendencies. (Please keep in mind that these are just seasonal "tendencies." We use technical and fundamental analysis to confirm buy and sell decisions.)
Gold tends to move higher in August and September, slide down into October, and then rise again in November.
Prices like to rise from November into February, and then fall into March.
Gold prices typically rise from March through the first part of June, then head to a yearly low in July.
Of course, we know that gold tends to rise before the holidays . . . the Hindu holiday, Diwali, take place on November 5th and Makar Sankranti is celebrated on January 14th.  Christmas is celebrated on December 25th, and the Chinese New Year arrives on January 31st.  The U.S. wedding season comes up in late spring.  All those occasions involve the buying of gold jewelry, and so demand for the shiny metal rises during those times of the year.
Traders and Active Investors …
August and September are typically the market's most volatile months.
Do you know how to keep your profits safe?
Do you know how to spot new opportunities?
Learn how to do both and much more in Toni's Market Club. Plus, if you act now, you'll get a 20% discount on your first month. Use this coupon code at checkout:  TMC20
Can't attend the live session?  No problem. The recording is available to all members right after the session ends.
Imagine how it would feel to approach the market with confidence . . .
And trade with a plan and the exact prices Toni gives you to buy and take profits.
Toni's Market Club is a low-priced, high-value opportunity to help you succeed in the market.
And if you act now, you receive a 20% discount on your first month.
Use this coupon code at checkout:  TMC20
I suspect that one reason gold rises in August and September is the market's seasonal tendency toward volatile price action—and this year, that tendency is playing out right on schedule.
All of that brings us to the price chart of the Van Eck Gold Miners ETF (GDX).  In a recent session of Toni's Market Club (more about that later), we studied the daily chart of the GDX, below, and considered shares in this ETF as a seasonal and defensive position.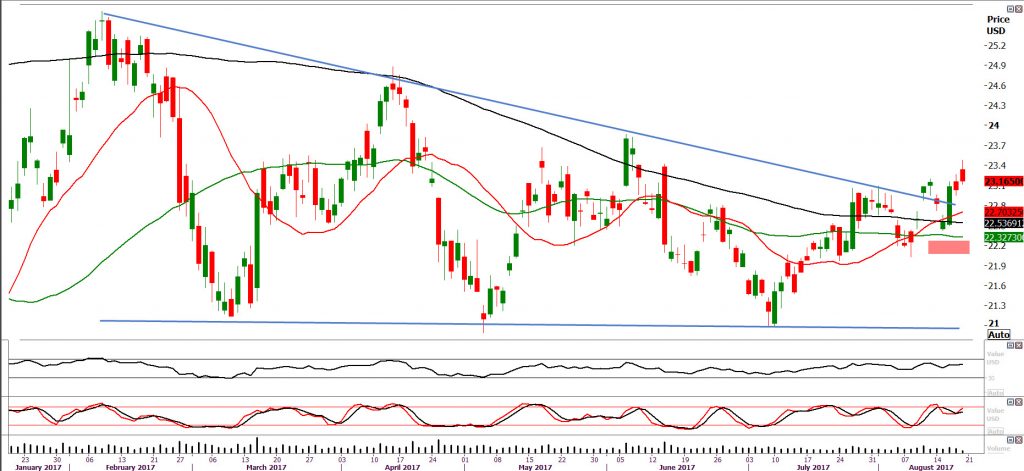 Chart Courtesy MetaStock
As you can see, this year the GDX touched its lows at about $21 in late February, and then again in early May and July.  Then it rallied off its July lows and so far, in August, it has traded above its 20 (red), 50 (green) and 200-day (black) simple moving averages.
The GDX has also broken above the blue down-trending line, a positive move.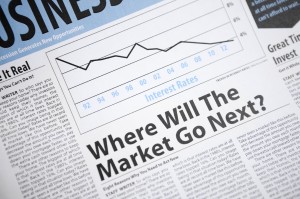 If the market continues to be volatile, and the GDX remains above $23.50, Toni's Market Club will hold our position and perhaps add to it, as long as the ETF trends higher.
Should the GDX close below the 50-day MA, we will exit the position.
As always happens, the dog days of summer will slowly give way to cooler weather, and the market will shake off its doldrums.  New and profitable opportunities will appear as we head toward the holidays.
Until then, however, the GDX may offer some respite from the market's storm.
Keep green on your screen!
Toni Turner
Toni Turner is the President of TrendStar Group, LLC, is an accomplished technical analyst as well as a popular educator and sought-after speaker in the financial arena.
She is also the author of best-selling books: A Beginner's Guide to Short-Term Trading, Short-Term Trading in the New Stock Market and Invest to Win: Earn and Keep Profits Bull and Bear Markets With the GainsMaster Approach, co-authored with Gordon Scott, CMT.